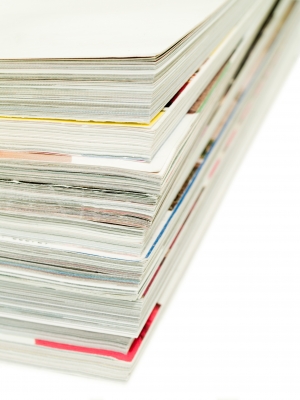 Earlier today, my first guest post ever went live at Darren Rowse's Twitip, on taking Twitter-based networking from online to in-the-flesh. (Welcome tweeple!)
I've already mentioned in the past why guest posting is a good idea, so we won't go into that again. What I would like to touch upon is how guest posting at someone else's blog should be treated as seriously as if you were writing an article for New York (or, um, Marie Claire). More specifically, I'd like to focus on how to approach pitching a blog editor.
You already know that I worry about the deterioration of professional decorum due to Web 2.0 practices. I find that bad business practices run especially rampant when it comes to online correspondence.
Show that blog editor your pitching the same respect you would any major magazine or newspaper editor. After the jump, how to go about pitching your guest post:
Familiarize Yourself with the Publication:
I don't tend to pitch publications I don't already read regularly, but a review of a publication's regular sections and features, article formats, and tone is always a good idea.
The same holds true for that blog you're pitching. Do they regularly post bulleted, service pieces or do they tend toward extended narratives? Are the posts conversational, or more dry and matter-of-fact. Your eventual post should try to match this but, before you get that far, you should also attempt to make your pitch e-mail match at least the tone.
Offer Something New:
It drives editors crazy when the receive pitches of ideas that just ran in last month's mag. Before you draw up your pitch letter, search the archives in order to ensure that your idea hasn't been done before. Or if it has been done, consider ways in which you can give it a new, only-you twist.
Establish a Personal Connection:
Dispense with the boring, impersonal form letters. Pinpoint the blog editor and address them by name. Explain why their work or their blog inspired you to e-mail them. If you can, bring up previous posts on their blog that were especially helpful to you.
Sell Your Idea:
Just as you would in any other pitch letter, fully explain your idea, spelling out what the topic is, what it would cover…throw in some specifics so that the editor knows you're not making empty promises! Sometimes, an idea can sound like pure genius in your head…but then, once you sit down to write, you realize that there's not enough depth to carry an entire post. Include a snappy blog post title as well. This will help to sell it to the editor.
Sell Yourself:
Why are you the best person to write this post? Fill your e-mail with past experiences, both topic-specific and blog-related. If you're lacking in relevant clips, let your amazing writing chops convince the editor that you've got what it takes.
Include "Clips":
The ultimate proof in the pudding? I like to include links to my most recent or relevant published pieces, or to my online portfolio, when pitching story ideas. Similarly, include to a link to your blog(s) at the end of your pitch e-mail and, to seal the deal, also include links to relevant posts. It helps to give an editor an idea of what you've been able to deliver in the past.
Make It Easy For Your Editor:
Once you've been given the go-ahead, be the model freelancer by delivering something that's seriously good to go. Attach all image files to your e-mail so the editor doesn't have to scramble to find one on his own. Include both embedded links, and typed-out HTML, in your piece, instead of making the editor seek them out himself. And, most importantly, proofread your post. Too few writers do this before sending their pieces out, and it makes the in-house copy editors wonder where you learned how to write. (Incidentally, your initial e-mail pitch should be just as perfect and polished.)
Post-Post:
Post-guest post, send the editor of the blog a thank you e-mail. After all, you're reaping the benefits of his or her already-established audience, and you should consider it an honor that you were allowed to contribute.