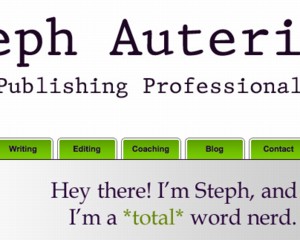 You guys. I'm so excited I could puke. Last night, my (darling, beloved, uber-talented, handsome) husband put the finishing touches on my new web platform, and then set it to go live. Ever since then, I've been gazing at it lovingly, clicking between the different tabs and feeling giddy.
I tasked my husband with this project back in the fall, when I first entered my career coaching certification program. My professional site was feeling a bit out of date, and I wanted a more comprehensive platform that would present me as a writer, editor, and coach in a fairly seamless manner. Voila. Would you like the grand tour?
My home page is fairly simple.
Michelle Rafter recently wrote a post on designing your brand, in which she stressed the importance of consistency across various platforms. I agree, which is why, on this page, I used the photo of myself that I use on all of my social media accounts. My site's header also appears on my new business cards. Eventually, once I start collecting testimonials from my practicum clients and other writing and editing clients, those will also appear on the home page.
Next is an About page, which is also pretty straightforward.
After that (and this I love), I had Michael create separate writing and editing portfolio pages, in which I linked to just a selection of the articles and projects I've worked on in the past. I decided to scrap my resume entirely. If someone wants a copy of my most recent resume, they can request it. As a freelancer, though, the traditional resume seems to be becoming less and less relevant.
Next (and this also makes me so excited I want to pee my pants) is the page for Career Coaching for Word Nerds. I had Michael install Google Checkout so that people could pay for my coaching services — or pre-order my e-book (available in June 2010) — directly through the site. I'll eventually throw up a sample excerpt of Job Hopping for Word Nerds, and Michael is working on a Word Nerd Community. Pretty rad, right?
After this, I have a blog page. Freelancedom feeds through to this, but I also plan on writing other career- and coaching-related posts over there…mostly so you're not inundated with content you might have no interest in.
Finally, I have a Contact page, with a simple contact form (though apparently not the simplest thing in the world to build 🙂
Am I a happy customer? Dude. I love love love my new site. What do you think? Is there anything you think I'm missing?
Next up: Michael does some much-needed spring cleaning on this blog.
Related: How To Market Yourself: Strengthening Your Web Presence