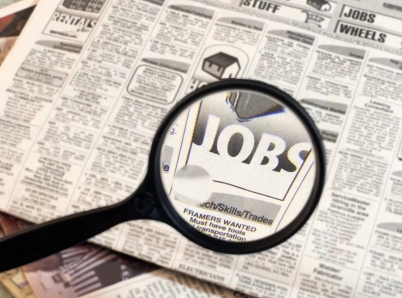 Experts such as Peter Bowerman of The Well-Fed Writer write that nothing beats cold calling. When you've exhausted your list of prospects, however, and your calendar of networking events, it's still possible to find the odd job via job ad.
The Dark Side of Job Ads.
It has been said that job ads are a wasteland of already-filled jobs, the last desperate stand of employers with no promising prospects. Companies prefer to hire from within and, if that fails, they prefer to hire someone they know…or at least someone who knows someone who knows someone who they know.
In addition, most job ads cater to those seeking on-site, staff positions.
This is all true, but freelancers have been known to get lucky on the job boards…
What's Out There:
MediaBistro — The site, which began as a source of connection for media professionals through its forums and cocktail parties, has a damn good (though slightly NY-centric) job board. A sampling of job openings: temporary copy editor for artNEWS; how-to writers for Mahalo.com; web designer for an "entertainment giant". One can also sign up for their Freelance Marketplace, a paid service where the self-employed set up online profiles — including samples from their portfolio — searchable by employers. Reviews are mixed, and there is always an "Is this worth it?" type of thread in their forums.
Ed2010 — What MediaBistro does for media, Ed2010 attempts to do for magazines alone. Their tag line is: "Next Stop: Your Magazine Dream Job" But the job ads themselves aren't so discerning. Some examples: Brides Local Magazines part-time freelance photography contracts coordinator; Harper's Bazaar freelance assistant; Radar Magazine freelance fact checker.
ProBlogger — Though ProBlogger is primarily a blog about making money blogging, there are other resources for readers, including the job board, which features blogging gigs. Most recent: link bloggers at Vimu.com; blog manager/writer at Stiletto; digital home tech blogger for eHomeUpgrade.
Freelance Switch — This popular freelance blog has a plethora of resources for its readers, including its job board. You can view all the job ads at once, or choose a category: The boards boast jobs in design, development, writing, illustration, and flash. A caveat: Though you can view the job descriptions, you can't view the employer contact information unless you subscribe. Some recent jobs: CSS/XHTML slicer; freelance designer and flash illustrators; freelance designer/developer/programmer.
Creative Hotlist — This is a site I just discovered the other day, and I love how easy it is to personalize your search. You can select both multiple categories and multiple industries. When I tick off proofreading, editing, and writing, and leave the industry field wide open, some of the recent ads that come up are: copywriter; interactive copywriter; ecommerce copywriter.
Telecommuter Jobs — I have Freelance Switch to thank for this one. They included it in a link roundup just the other day. The site basically collects all the telecommuting-based jobs from Craigslist and allows you to search through them via job category. Craigslist job posters are notoriously cheap, but you can sometimes find that diamond in the rough.
There are, of course, a ton of other job sites out there, including Elance and Guru, where you can bid on projects. (Like Craigslist, Elance and Guru are known for job postings offering insultingly cheap rates.) Any that I'm missing?