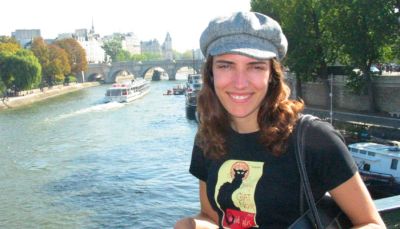 Hey there everyone! This is Chantal. She leads the glamorous life of a writer living abroad, and as such, you shall all be jealous of her. Especially after reading my interview with her, after the jump. Enjoy!
1. First of all, please explain to our readers what your freelance business is, and how much of your time you devote to it.
I am a freelance writer covering music, expat life, and travel. I also specialize in English copywriting ("English" being an important distinction when living abroad). Right now, I work about 20 hours a week for an advertising agency in Zurich, where I create ideas and advise on all things English for the agency's networks in Zurich, Geneva, and Frankfurt. I spend an additional 15-20 hours doing my other writing, which includes a personal essay column for Swiss News, classical music reviews for Style Weekly, and various other projects, such as blogging about life in Switzerland at One Big Yodel, and trying to break into dream publications like The Christian Science Monitor, which I did in June.
2. What led you to freelancing in general, and writing in particular?
I began my writing career as a copywriter at The Martin Agency. About 10 months into my first job, a client announced he would be counting the number of syllables in my 2-3-word headlines. So while I really enjoyed making ads, I decided I needed another outlet where I could express myself in more than the 10 words usually granted to copywriters. Style Weekly, an alternative newspaper in Richmond, VA, was looking for a freelance classical music writer and, since I had been trained as a classical musician, I began writing articles for them in my spare time on the weekends, and discovered I really loved it.
3. How long have you been living in Zurich, and what originally took you there? Feel free to add in the best parts of life abroad, so that we can all live vicariously through you.
I've been in Zurich for 2.5 years now. I wanted to live abroad to experience new things and live outside my comfort zone. When my husband's company gave him the opportunity to work abroad, we couldn't say no. It was hard to give up our house, cars, support network, and for-me job but, as a creative person, I knew I'd regret not doing it later. My former office helped me by sending my resume to their network in Zurich and, within two weeks of arrival, I became an official "English Copywriter." Since the agency here didn't think they'd need an English copywriter full time, I received a 50% contract, which was perfect as it also allowed me time to expand my freelance writing career.
The best parts of living abroad are:
1. Chocolate. Just yesterday I discovered this dark chocolate truffle bar filled with hazelnuts…Ok, well more seriously, living abroad really opens you up as a creative person because your ways of doing things are constantly challenged. You learn to see yourself and your country in an entirely new way, which has really inspired my writing.
2. The travel opportunities. I can be shopping in Germany in 30 minutes (and thank God as the prices are much cheaper than in Switzerland). Or I can run off to Paris for the weekend. Living in Switzerland means all of Europe is within a 2-hour flight. And I have made it my mission to conquer almost all of it.
4. What is your favorite regular writing gig, and why?
I just started writing a monthly column for Swiss News, the National English Journal of Switzerland. It's called Expat Adventure and it's a blast because I have a lot of creative freedom to write about whatever I want. For instance, my November article was about the trials and tribulations of trying to share a laundry room with an anal Swiss neighbor who wanted me to do things like leave the dryer door open at a 45-degree angle and scrub the inside of the dryer with a little brush to remove every single possible piece of lint. You can read the latest from my column on my website, www.chantalpanozzo.com.
5. How do you see your business growing in the future?
I have slowly been expanding my writing capabilities by taking classes at mediabistro. Last fall I took personal essay writing with Liza Monroy and got my first big national writing credit with an essay about my father, "Dad's Museum Mania," that ran in honor of Father's Day in The Christian Science Monitor. I am now working on further expanding my writing options through travel writing, since hopping around Europe has clearly become an obsession of mine.
6. What are your favorite resources for the burgeoning professional in his/her 20s?
Gosh, I'm a little over the hill at age 30 [ed. note: I'm almost there myself.], but definitely mediabistro.com. They have great info on "How to Pitch" different publications. And after taking two classes with them, I can definitely recommend them not only because of what I've learned, but because of the support I've gotten from other writers through writing groups after the classes have ended.
I also recently discovered writtenroad.com, which is a great site for learning about the travel writing industry.
In addition, I read The Urban Muse blog by Susan Johnston, who is also a freelance writer.
And you can't beat facebook for getting the word out on your recent articles.
7. What are the toughest aspects of freelancing, and how do you deal with them?
I find it challenging to master the business side of freelancing. I have no trouble writing and coming up with creative ideas, but selling and marketing my work is something I've really been trying to focus on lately.
There are also challenges involved in freelancing in a country where you are dependent upon work permits and government approval for everything you do. So it took six months before I was cleared to begin writing my monthly column for Swiss News. It takes a lot of patience to be a writer, but even more to be a writer abroad. Especially since you don't always have access to all the publications you would like to have. And for my U.S. writing gigs, my mother is my banker (thanks, mom!) and deposits my checks as doing so here would involve excessive fees.
8. If you could purchase anything for your home office, what would it be?
I'd be happy with a huge desk and a comfortable chair, but right now the dining room table has become my office, much to my husband's dismay, as I have never-ending piles of paper and publications threatening to take over the rest of the living room. But Swiss apartments are small and so there's really no space for an office unless I took over the guest bedroom—but right now, that area is sort of an open-air filing cabinet…plus I find the view from the living room more inspiring (see pic).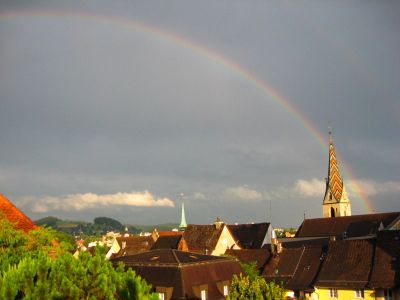 9. What are some dream jobs you'd consider if you had your druthers?
I would love to write a book someday. Or sing in an opera again. Or have a column in the New York Times (for instance, I love reading Maureen Dowd). I had the pleasure of meeting David Sedaris this week and would love to put together my own collection of personal essays at some point. College Professor is another dream job for me. I taught copywriting at Virginia Commonwealth University a couple years ago and loved it.
10. Do you have a professional background in classical music? Who are your favorite composers?
Yes, I began my classical music career at age six singing with the Young Naperville Singers. In addition, I took piano lessons for 12 years. In college I studied opera. Actually, looking back, I think learning to sing is great training for being a writer. You internalize a lot of poetry and learn the melody of words.
My favorite composers are Debussy, Chopin, and Grieg.
…
Readers can contact Chantal on LinkedIn, or at her website.
And for her most recently published piece, keep an eye on the Christian Science Monitor this coming Monday!
As always, e-mail me if you're interested in being my next victim…um…interviewee.