I know I just did up this whole post on maintaining professional decorum, but I'm now feeling distracted by the extreme comfort I'm feeling at my slippered feet.
I received three — count 'em, three — pairs of slippers for Christmas, including the pair pictured above.
And I wish you all the same good fortune. Because, when you work from home, why not be comfortable? (And warm…very, very warm…)
The other pair I'm loving to bits? These:
They're lined with fleece. Jealous much?
They no longer seem to be available at Old Navy, but there is no shortage of shops selling similarly-designed at-home footwear. Here are a few pairs from Zappos alone: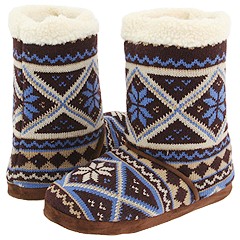 [$61, Zappos]
[$42.95, Zappos]
[$87.95, Zappos]