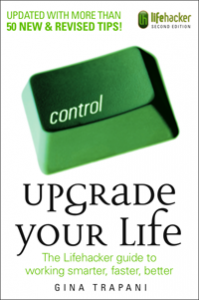 I spend the bulk of my hours on my computer, and the bulk of those hours on my Google Reader, scanning through the 146 blogs I'm subscribed to. Among those: Lifehacker. The blog's posts are rich with tips and web apps guaranteed to make my life easier.
Though I can easily search through my Google Reader for the answer to any problem — assuming it's already been answered in a previous post — there's just something about holding a tangible reference manual in your hands…
Which is why I was curious to read Lifehacker founding editor Gina Trapani's Upgrade Your Life: The Lifehacker Guide to Working Smarter, Faster, Better.
In the end, there just wasn't enough to hold my interest. I felt as if I was reading an extended Billy Mays pitch…the sort in which problems are created in order to sell the solution. I'm a creature of habit, and it seemed that merely learning how to be "smarter, faster, better" would cost me more time and effort than it was worth.
Still, there were a few tips I found interesting:
Hack 2: Decrease Your Response Time:
In Hack 2, Trapani gave a multitude of tips for decreasing your e-mail response time, such as processing messages in batches, and the one-minute rule. I already do some of these, and it's the reason my inbox is usually empty. Definitely worth a look if you've been buried under a mountain of incoming e-mails for months now.
Hack 12: Instantly Retrieve Files Stored on Your Computer:
In this hack, Trapani explores a number of downloadable search apps that are guaranteed to make searching all the files on your computer much easier.
Hack 14: Instantly Recall Any Number of Different Passwords:
I don't want to give away the big secret here but Gina: You are one clever chica.
Hack 17: Organize Your Digital Photos:
I'm a sucker for organizational tools, and I'm a sucker for personal photos. Which is why I immediately downloaded Picasa — a free photo organizer by Google — upon reading this. After having it search all the images saved on my computer, I sheepishly erased all the porn, and then spent a good amount of time captioning and tagging photos, and placing them into albums. I believe that, over time, I will harness the true potential of Picasa.
Hack 22: Make Your To-Do List Doable:
The tips here are just common sense, but it helps to be reminded. Break down items in your list into actionable tasks. Use active verbs. Include all necessary information. Etc. Following the tips in this hack will keep you from feeling overwhelmed on a daily basis.
Hack 24: Map Your Time:
I like this hack because I like spreadsheets, and this hack involves using color-coded spreadsheets to schedule out your day. It even mentions a downloadable Excel time map template if you're not up to making your own.
Hack 51: Batch-Resize Photos:
This one is self-explanatory, and helpful when you've just uploaded a bunch of high-res images from your digital DSLR.
Hack 58: Poll Groups of People with Doodle:
I've been on the hunt for the best polling site, and I'm liking the looks of this one. Perhaps I should set up a poll in order to get your opinion?
Hack 69: Manage Your Documents in a Web-Based Office Suite:
A nice alternative to carrying around a flash drive, I'm not quite sure why I haven't gotten on the Google Docs bandwagon yet. In this hack, Trapani includes the pros and cons of using a web-based office suite, and then gives multiple options for word processors, spreadsheets, and presentations.
Hack 97: Rescue Your PC from Malware:
I haven't tried this myself yet, only because I don't trust myself to not accidentally acquire even more malware in the process. There's already a shady file on my computer that I've been unable to get rid of. But perhaps it would be worth it. Trapani mentions tools like Lavasoft Ad-Aware, Spybot Search and Destroy, SpywareBlaster, and Windows Defender. Anyone have any experience with these?
…
You get the picture. If you're interested in checking out more of Trapani's tips and hints, pick up the book. Otherwise, I highly recommend searching through the Lifehacker archives for specific problems.
Related:Â Home-Schooled: 20 Books To Build Your Freelance Life Upon