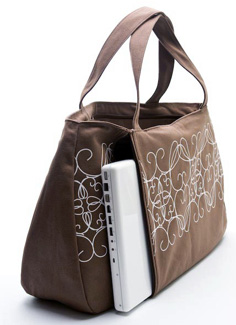 The other week, my husband bought me a laptop, which was just about the most exciting thing ever in the world. (He's so good with gifts; last year, he got me a GPS for my car and, the year before that, my Nikon D40X.)
It meant that I could be mobile…if only I had something to carry it in.
I considered laptop sleeves and then quickly dismissed them. While they were sleek, chic, and came in tons of fun designs, carrying one in addition to my usual load of crap made me feel like a bag lady.
No. I needed a catchall…preferably one that did the job, and looked damn good while doing it.
Enter the Lapsac.
A combination purse/laptop bag, the Lapsac has a front access pouch that you can easily slide your laptop into, leaving the rest of the roomy tote available for all the stuff you usually put in your purse. The pouch fits laptops up to 17 inches, which was perfect for my 15.6-inch widescreen.
Looking at the size of the bag, I was  bit worried it would be uncomfortable to carry around, but the straps fit snugly over my shoulder and — as long as I don't carry my laptop around for ridiculously extended periods of time, it feels lighter than air!
I actually squealed with excitement when I first received it in the mail, and then walked around the condo with it over my shoulder, just for fun. Â Now that I've used it a bunch of times, I'm still in love.
Ladies, I'd strongly consider the Lapsac if you're looking for a stylish bag that can still fit your other things.
[$68, Nanda Home]