The other week, I wrote the kick-off post in a new Freelancedom series — Reason To Write. It was a post about how writing had provided me with the opportunity to experience new things, and discover new passions… like recreational cooking (I'm too much of a disaster in the kitchen to actually call myself an amateur cook, or a foodie). I invited readers to share their own stories.My first guest blogger in the series is the fabulous Alisa Bowman, a laugh-out-loud funny blogger, and the author of the forthcoming Project: Happily Ever After (SUCH a good read!). Her reason to write? Well… read on…
Many years ago, as a newspaper reporter, I wrote because I wanted to make the world a better place. Then, three years into the job, I found myself standing across the street from the house of a woman who had just lost all three of her children. Her ex-husband had shot them all in the head and then set them on fire. Then he'd shot himself.
I was supposed to knock on her door, ask her how she felt and see if she might lend me some photos of her children.
I felt like a slimeball.
I'd just covered a murder like this the week before — and another one the week before that. In the state of Delaware, fathers killing their children had become a "trend," one that had gained national media attention. News vans and reporters lined the street. This grieving mother could not leave her house without someone sticking a microphone or a camera in her face.
They all wanted a comment from her about how she felt.
I already knew how she felt. She felt like she wanted to die. She felt like she was about to throw up. She felt worse than she'd ever felt in her life.
I didn't need to ask her how she felt to know that.
I stared at this woman's front door. I took a deep breath. I let it out with a sigh. I wiped a tear from my cheek. I looked at the other reporters. I sighed again. I got back into my car. I drove to a florist. I sent her flowers.
And then I started combing the want ads.
Soon I was a writer for a publishing house that produced health encyclopedias. Again, I wrote because I thought my words might make the world a better place. I imagined that the words I wrote might help people find more energy, feel happier, gain confidence or, at the very least, ease their common cold symptoms.
I wrote about health for the next 15 or so years. I did it at a national consumer magazine. And later, I did it as a freelancer.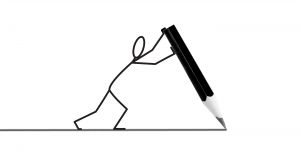 Eventually, I began to feel as if my words were worthless. Rather than help people, I worried that some of my words hurt them instead. I especially worried about the words that described various diets. Whenever I wrote that a diet was "easy" or that someone could lose "10 pounds in 10 days without feeling hungry!" I again found myself feeling like a slimeball.
I hadn't majored in journalism so I could feel like a slimeball. Feeling like a slimeball was not what I'd signed up for when I'd decided to become a writer.
I thought about giving it all up. I looked into many different careers. I went back to school to become a massage therapist, and then I dropped out. I studied for the certification test to become a personal trainer, but I never got around to taking the test. I got certified in and taught yoga for a while, but I couldn't bring myself to teach more than two classes a week.
The words kept calling me.
I felt compelled to write. So I wrote a very bad children's chapter book. I know this book was very bad because a good friend who happened to be a buyer of children's books for Borders agreed to read it. She's the one who told me that it was very bad. I've forgiven her for her brutal honesty.
I started writing a novel about a woman who kills her husband and gets away with it. I got 20,000 words into it before I hit the wall and couldn't seem to find a ladder.
Did I need to go back to school and get an MFA? No one had taught me how to write fiction in Journalism School.
I lost interest.
I then worked on fixing my marriage. Yes, the novel had been somewhat autobiographical. I hadn't killed my husband, though. I'd merely thought about it.
Later, I wrote about the process of fixing my marriage — both in a book and in a blog.
Unlike writing for books or magazines, blogging allowed me to directly connect with an audience. When I'd written books, I'd never really known how my words had or had not affected people. I never heard from the readers of those books. Too much time and space separated us.
When I'd written magazine articles, I'd only occasionally gotten letters sent via U.S. Mail, and they usually gotten to me months and months after the fact.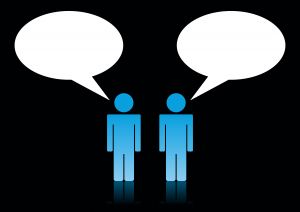 But, with the blog, the connection was instantaneous. I would post. People would react.
It was through this connection that I finally felt as if I was really and truly making a difference.
Sometimes, that difference was knowing I'd made someone laugh.
Other times, I knew I'd made a difference when someone thanked me for making her feel normal or less alone.
Still other times I knew it when readers told me that I'd helped them to save their marriages.
It took me nearly 20 years to find a way to write the words that I'd wanted to write from the very beginning.
It took me nearly 20 years to figure out how to use words to make the world a better place.
I write because words allow me to make a difference.
I write because the words are always there. They tap me on the shoulder, and they force me to put them on the screen.
I write because the words leave me no other choice.
If you'd like to submit your own guest post for this series, contact me!