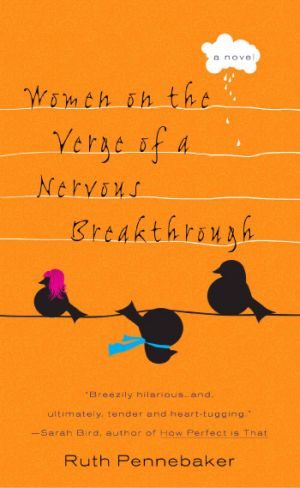 I started the Reason To Write series so that writers could give thanks for the experiences they've had and the people they've met through writing, and also expound upon the other aspects of the writerly life that make them happy. This week, I'd like to introduce the always-hilarious Ruth Pennebaker, blogger over at The Fabulous Geezersisters, and author of the forthcoming Women on the Verge of a Nervous Breakthrough. Ruth decided to use this space to write up a holiday list of all the ways in which writing continues to enrich her life. So when it comes down to it? Perhaps writing is the biggest gift of all.
As always, shoot me an e-mail if you'd like to contribute to this series in the future.
1. I'm not religious and I don't believe everything "happens for a reason." Â I think life is random and chaotic. Â So when I write non-fiction (essays, columns, blog posts, articles), I think I'm trying to make sense of the world.
2. When I write fiction, I get to create my own raw materials and characters and events. So you could say that I have more control over the narrative. The trouble is, you still have to imagine a realistic world where bad things happen to good people and Republicans still won the last election. So you end up trying to make sense out of these events the same way you do with non-fiction. Maybe you have to cede control when you write and allow bad things to happen; otherwise, you would bore the hell out of readers, wouldn't you?
3. When I was younger, I wrote because I had a talent for it and I wanted people to notice me and see my name in print.
4. Now that I'm older, I think I write for different reasons. It's partly habit. It's partly to leave something — my stories — behind. Maybe it's just for my family or maybe it's just for me. Â Somehow, that's enough.
5. I also write because I would have made a mediocre lawyer (I have a law degree; don't ask me why) and a worse neurosurgeon.
6. Don't get me wrong. Sometimes, I wish I'd had the talent to be a great lawyer or neurosurgeon. But I don't. Sometimes I bitch like crazy that the talent I do have is so underappreciated and underpaid. But, at difficult times — say, when my father died in May — I find myself writing and deeply grateful I can write. It helps me. It allows me to express what I need to say. At times like that, I feel sorry for people who can't write and make something — anything — out of their grief.
7. After 30 years of writing, I write because I love it, it often makes me happy, and I can't imagine doing anything else or anything better with my life.