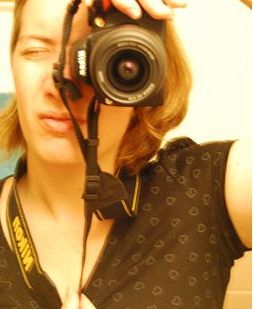 Eight years ago, I bought my first SLR (single-lens reflex camera). It was a Canon Rebel, the same camera my editor at the Pennington Post had, and owning it made it nearly impossible for me to take bad photos. That $500 — paid back to my parents in installments — was worth every penny.
Now I have the Nikon D40X, a gift from my family, and it's been proving indispensable to my work since the moment I received it.
Why You Should Invest In a Digital Camera:
Eliminate the need for stock photography accounts. I use quite a bit of stock photography on the blogs I write for. I try to snag free pics from stock.xchng or Flickr (only those covered by Creative Commons, of course), but sometimes I get desperate and have to pay for photos on stockxpert. Sometimes, though, when I'm writing up a review of a product I have in-house, for example, there's nothing easier (or cheaper) than snapping a shot and immediately uploading. Aside from being cost-effective, it also…
…adds a personal touch: Photos of you with your product allow readers, clients, etc. to connect with you on a level they're unable to with words alone. Now that you have the ability to take quality photographs on your own, you should consider…
…designing your own ads: If you're handy with design software, there's no need to pay big money to have ads put together professionally. (A caveat: You really need to be handy with the design software; a shoddy-looking advert will only backfire.)
Finally, if you're in ownership of a quality camera — and you know how to use it — you have one more thing to offer your clients: Trying to pitch a story to your local paper? Tell the editors that you can provide your own photographs. Discussing business with a new web design client? Offer to take product pics or staff portraits for inclusion on the site.
You can use this handy-dandy comparison tool in order to figure out which digital SLR will work best for you.