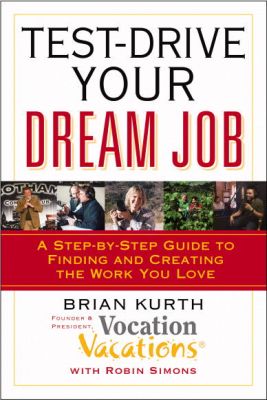 When I first stumbled upon Brian Kurth's Vocation Vacations website, I thought it was just about the best idea I'd ever seen. As someone with so many interests, she doesn't know quite what to do with them, the opportunity to go on a vocation vacation and experience an entirely new career for a limited period of time was incredibly attractive.
Of course, vocation vacations sound an awful lot like internships, and you don't need to pay for the opportunity to intern. Reasonably enough, Kurth agrees that there are other  (free) options for checking out the viability of a new career path, which is where Test-Drive Your Dream Job comes in. After the jump, my five favorite things about this book:
The book makes it easy to find a mentor or, at the very least, snag an informational interview, with actual scripts and templates for e-mail queries and cold calls.
The important questions (the ones that should always be answered before you make a drastic change) are laid out for the reader: What skills do you need to learn or strengthen? How much money will training, certification, or basic start-up cost? Are the hours doable for your lifestyle? Etc.
Similarly, the same things you're asking yourself can also be put to your mentor. A general interview outline is drawn up in this book and ready to go!
Kurth addresses the fears that often surface when we consider making a career change, and puts them into perspective.
Finally, Kurth brings up the possibility that we will give our dream job a try, and end up not wanting it after all. He acknowledges the crushing disappointment that can accompany such a revelation. Considering the fact that trying and knowing can be better than never trying at all, it's a chance that many readers will be more than willing to take by the end of this book.