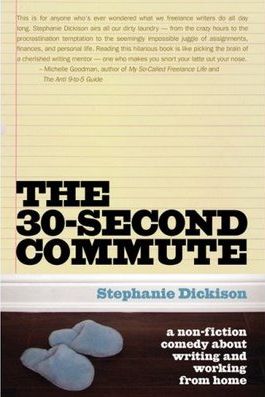 I wanted to read this book for the same reason I am always wanting to refresh my Twitter feed every three and a half minutes, and for the same reason my Google Reader is filled up with other writers' blogs, and for the same reason I love lit events, though I could easily enjoy a book in the comfort of my own home: I love connecting with other writers. It makes me feel less alone.
Stephanie Dickison's The 30-Second Commute is not a self-help book or how-to manual. Lord knows I have enough of those. Rather, it's a portrait of the artist as a young freelancer. A meandering, manuscript-length account of Dickison's days, assignments, and niches.
Why did I enjoy it so much?
Not only did it act as a perfect snapshot of my own life, but it showed that a freelancer can sustain oneself by concentrating on the subject matter he/she loves.
It forced me to think of the things in my life that I love…those untapped subject areas…things like cats, amateur cooking, and bizarre exercise classes. It made me think of new areas I could explore, and new markets I could break into. It reminded me that a career can be built around a life — and be based upon life experiences — rather than the other way around.
If you're looking for a how-to, this book wouldn't be for you. But if you're looking to connect with another freelancer…someone who gets what you're doing…pick this one up.
Related: Home-Schooled: 20 Books To Build Your Freelance Life Upon