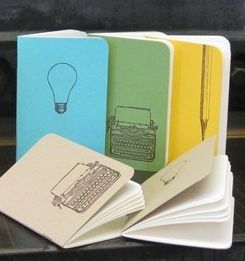 [$18 for set of 3, Etsy]
I carry a polka-dotted notebook in my purse at all times. There is a collection of moleskines on my desk. And I have the NiteNote tucked away in a drawer underneath my bed.
But that's not all. In my hall closet, there is a large plastic container filled entirely with blank notebooks, some purchased in various B&Ns and stationery shops…most gifted to me by those who are aware of my enduring notebook love.
You'd think that would be enough to last me a lifetime, but I'm always on the lookout for something new, cute, and small enough to fit in my purse.
Which is why I'm digging these Bright Ideas pocket notebooks on Etsy. Because lord knows I could use a few more bright ideas.
[Via Design Dish]
Related: Product Placement: NiteNote, Product Placement: Freelancedom Survival Kit