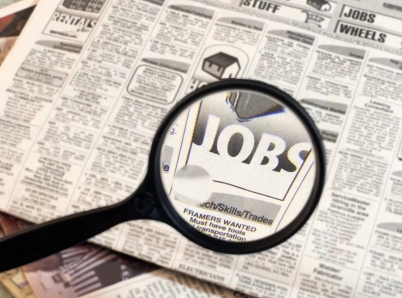 As you well know, I've been struggling lately with how, exactly, to find the perfect balance between my freelance work and more regular income sources. The state of the economy hasn't been helping, and so I've been considering other options, including the utilization of staffing agencies.
My previous experiences with staffing agencies were as a college student, looking for temp work during my breaks. I worked with one temp agency down in Central New Jersey, which was able to find me fairly regular work within the nonprofit sector. The other agency — much closer to where I'm living now — didn't often have much to offer. Which is why I hadn't seriously considered such avenues when the New York Sun first folded.
Now, having come closest to paying work with the help of two such agencies, I've been forced to reconsider their effectiveness.
After the jump, eight staffing agencies that specialize in the creative industries:
1. Adecco:
Adecco is a global staffing agency with "7,000 offices in 60 countries." While they work within a number of industries, one of the categories one can search in is Creative. You can also sign up to receive job notifications and access articles, career advice, and more. Plus, you can apparently build your network by joining their Facebook group.
2. Aquent:
Aquent is an agency I've been working with recently. They've called me several times in an effort to pinpoint what I want, how much I want, etc. and, thus far, I've felt as if I'm in good hands. It's too soon to report on how effective this partnership will eventually be, so I'll just mention that they're a talent agency working primarily with designers and marketers. They do, however, dabble in other creative areas.
3. Artisan:
Artisan represents "the best of the best creative, marketing, and production talent in Chicago, New York, Los Angeles, and San Francisco." You can search jobs through their site, and also register via a form that allows you to express yourself in a number of essay-style responses.
4. Atrium:
Atrium is a women-owned staffing agency operating primarily within New York, New Jersey, and Boston (my three favorite places!). A lot of the jobs up on the site seem to be office support-related, but they are also involved in the creative arena.
5. Career Blazers:
Career Blazers has locations in New York, New Jersey, D.C., and Rockville, MD. As far as creative positions go, it looks like graphics is it (::sob::).
6. The Creative Group:
The Career Group is geared toward marketing and advertising professionals. In addition to helping you find projects, they also provide a benefits package, even if you're not working a full-time gig. One can also put up a portfolio on the agency's site, and sign up for group's e-zine. Color me impressed.
7. The Hired Guns:
The Hired Guns is another agency I started working with recently. A friend/colleague of mine got a sweet job through them, and I also recently got interviews for two editorial gigs. Sign up on the site and then receive targeted e-mails with the newest job opportunities.
8. Lynne Palmer:
Lynne Palmer places professionals within book publishing, magazine publishing, new media, and more. A quick perusal of the available positions on the site is encouraging. You can also register with the agency by sending a cover letter and resume in via e-mail.
Anyone here have any experience with these agencies, positive or negative? Anyone awesome that I'm missing? Weigh in with a comment!