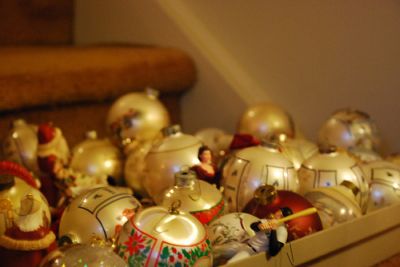 I've always chafed at the conventions of the corporate world, which is why I eventually jumped ship. Why is it, then, that I cling so tightly to holiday traditions?
Perhaps it's because — much like my career — these traditions belong to me and, by extension, my family.
Here's a list of the holiday traditions I can't get enough of:
– We've always decorated together, as a family. With my mother has the taskmaster — a perfectionist when it comes to ornament placement — the decorating almost always devolves into shouting, temper tantrums, and slamming doors. I find this humorous. My husband now tells me that I'm becoming more like my mother every year…especially when it comes to ornament placement. I think he's a little bit scared of both of us. I wouldn't have it any other way.
– As far as the ornaments go, my parents have always bought a new one every year for me and my brother. As has my uncle. As a result, I have a large collection of Barbie ornaments (don't ask), Ferrande ornaments, and a trillion others. It's a miracle they all fit on the tree. In order to continue this tradition, my husband and I have begun exchanging ornaments every year.
– My mother probably wishes she never got me involved in the cookie baking, because I never let it slide, no matter how busy we are from year to year. Every Christmas, we bake five different varieties of cookie: tassies, spritzes, crescents, cookie bars, and magic cookie bars (the magic derives from the ability to make you gain 10 pounds instantly).
– If we're involved in any of the above, Christmas music must be playing. My mom's partial to her "Christmas Shoes" album, and New Kids on the Block's Merry Merry Christmas. I prefer Bing Crosby, the Carpenters, the Peanuts album, and Mariah Carey's "All I Want for Christmas is You" on repeat.
– When I was young, my parents took us to the children's mass. We all brought bells to ring during the course of the mass, and Santa would show up the end to hand out candy canes and toys. After college, I joined the church choir, and soon I was singing at four Christmas masses a year! This is my first year as a non-choir member. Last night, I went to the Christmas Eve mass. It's not Christmas for me without hearing the choir sing all of my favorite songs.
– Top 5 Favorite Christmas Movies: Rudolph the Red-Nosed Reindeer, Elf, A Muppet Family Christmas, Holiday Inn, and Love Actually. I try to watch them all, if I have the time.
– The food is the most established part of our yearly Christmas celebration: It always includes filet mignon, potato pie, mushrooms, veggie casserole, artichokes, pudding pie, peanut butter pie, and all those cookies we baked. I feel nauseous just typing it all out. Nauseous in a good way.
…
Leave your own holiday traditions in the comments, no matter which holiday you're celebrating this year! Hope you all have an extra special one!