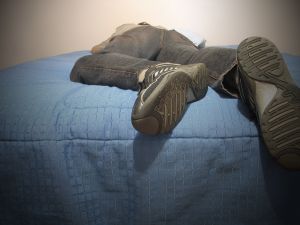 I've been having trouble waking up lately, feeling not at all refreshed by my 8.5 hours of sleep.
And yesterday, I was only able to manage one flipping blog post.
After that, I couldn't bring myself to care that not working meant not getting paid.
It's not typically like this.
Usually, I work feverishly from 8 a.m. on, at a pace that suggests I'm on a race against time. And I am. Because I know that — at any moment — I can hit The Wall.
I was diagnosed with CFS (chronic fatigue syndrome) several years ago, after numerous blood tests for anemia, vitamin deficiencies, thyroid conditions, etc. After delivering his diagnosis, my doctor told me he couldn't help me, and advised me to see a homeopathist. The remedy my homeopathist prescribed didn't seem to change a thing and, since then, I've treated my CFS in much the same way I treat my depression and anxiety: as something to be managed rather than cured.
Christina Gleason has a fabulous post on her experiences with CFS, in which she eloquently describes the very same frustrations I've felt over others' quick dismissal of my symptoms as signs of laziness and hypochondria.
For those freelancers struggling with CFS, my suggestions for getting through the workday are quite similar to those I've already mentioned for working through the weekend:
Make sure you're getting an adequate amount of sleep every night. Some people need more than the requisite 8 hours, and this is nothing to be ashamed of.
Plan out your day, down to the minute, with projects broken down into more easily manageable tasks. Projects as a whole can seem insurmountable; when you take things one step at a time, they become far easier to accomplish.
Take breaks to avoid burning out.
A quick, midday nap can be helpful, but sleeping the day away due to unavoidable exhaustion will only serve to make you groggy and unable to function.
Get out more! A quick breath of fresh air — plus some much-needed sunlight — can revive you.
Remember: As freelancers, we have to wear multiple hats in order to keep our home businesses afloat. If you've been successful despite your CFS, you should be proud of yourself. Don't let the large number of people who don't understand your condition tell you otherwise.