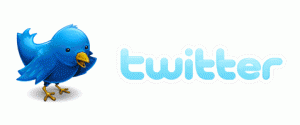 I'm a bit obsessed with the Twittersphere. I'm logged on 24/7 and use the site to promote my work, seek out sources, and network with other freelance writers. Plus, it helps me to maintain my sanity when I'm desperate for some small bit of human contact.
Why not use the site as a virtual business card as well?
If you're unwilling to leave behind the more tangible business cards currently gracing the inside of your wallet (I still feel that business cards are key to in-person networking), make sure that your online profiles are placed prominently on the cards you hand out.
Career guru Marci Alboher wrote a great post on this topic, in which she rightfully mentions that a professional URL placed on a business card is less likely to become obsolete than other bits and bobs of contact info.
Other clever business types — like this person — model their business cards after Twitter itself!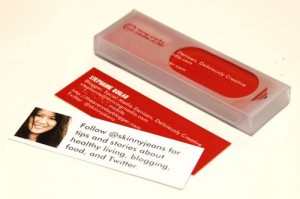 And then there are those who go so far as to actually wear their business info.
I once did a test drive post on the resume T-shirt, but there are now a plethora of start-ups willing to place your Twitter username — or even your best tweet — onto a T-shirt.
I love these tweet shirts by Made from Dolly:

[$12, Made from Dolly]
TWItoShirt allows you to get your favorite tweets on a shirt. The same goes for Twitshirt.
And now, Twitter has paired up with Threadless to offer Twitter Tees. They're even having a contest to decide which tweets to print on their tees!
How are you integrating your online profiles into your self-marketing materials?
Related:Â Using Twitter to Achieve World Domination (In Your Field), Product Placement: The Resume T-Shirt