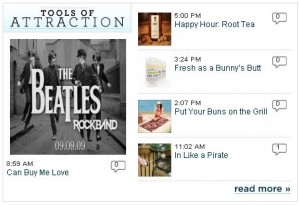 I've been a bit distracted for the past month, so I thought I'd share why.
The other month, Nerve.com (the site I do most of my work for) got itself a new CEO, and he immediately set about brainstorming how to whip things into shape.
Changes were discussed, and I lived in a state of high anxiety for weeks, unsure whether or not my main source of income would eventually be kaput. Finally, I was tasked with telling my bloggers that soon, the Modern Materialist (Nerve's products blog) would be no more.
Happy ending: I'm now leading a new blog: Tools of Attraction. This blog is a sort of rebirth of the Modern Materialist as something far more focused. While it remains a products blog, the products we feature are meant to aid readers in their enduring quest for love (and sex!). I'm hoping that this new focus — which is far more aligned with Nerve's general editorial direction — will eventually lead to a much more successful blog.
So for the love of god, wish me luck!
P.S. Along with the launch of Tools of Attraction, Nerve has also rolled out a new, beautifully designed home page, thanks to the design chops of the fabulous Charles Yesuwan. Please bow before his greatness.
P.P.S. If anyone has any ideas or requests for products you'd like to see Tools of Attractions cover or try out, you should totally let me know!