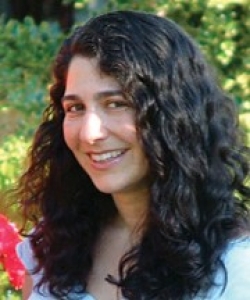 Her Anti 9-to-5 Guide led the way in my journey to full-time freelancedom. And when My So-Called Freelance Life hit the shelves, I couldn't stop myself from gushing. It was the book I wished I'd had from the very beginning.
After the jump, Michelle Goodman — one of my top freelance gurus — is kind enough to answer my nagging questions:
1. Could you tell our readers what first led you to freelancing in the first place?
It was a hasty decision. I hated working in an office five days a week. As far as I was concerned, 9 a.m. was the middle of the night. At the time, I was working as a publicist at a New York book publishing company. A newspaper I had interned for after college offered me some freelance work writing advertorials about clothing trends (basically ad copy disguised as journalism). It of course costs a fortune to live in New York, and some of the freelance pieces I was doing paid more than I made in a week at my publicity job, so who was I to say no?
I researched and wrote these articles evenings and lunch hours, loving every minute of it. So much so that, when I moved to San Francisco at age 24, I decided to do everything in my power to avoid getting a staff job again. After a couple years of working odd part-time jobs to offset my initially paltry freelance pay, I was off and running as a full-time independent professional.
2. What percentage of your clients are regular, and how do you seek out new clients?
I'd say 80 to 90 percent of my work comes from regular clients now. For the past year, I've had weekly or monthly deadlines for the same three to five clients. One of these projects just ended and another seems to be running out of money, which means I finally have room in my schedule to pitch new editors and try to forge new relationships with what I hope will be ongoing clients. The idea of writing for some new markets has me really excited.
3. As a freelancer whose resume is a bit all over the place, I have a tough time declaring myself an expert in anything. When was the turning point in your career when you felt you had the expertise to write a book?
I'd been speaking and writing about freelancing and other forms of alt employment — temping, contracting, part-time work, and so on — for a few years before I began writing my first book (The Anti 9-to-5 Guide). When my editor said, "Pitch me the topic you're most passionate about," freelancing and alt careers was the obvious choice. So it was a combination of being comfortable as a subject matter expert, being in love with the topic, and putting my own unique spin on it (career advice for indie-minded women).
4. And how did your regular columns come about?
I wrote a post about that a while ago. The short answer: I was already freelancing for the Seattle Times when they asked me to write How'd You Land That Great Job?, and then Nine to Thrive. With my ABC News career column, my editor went to the bookstore, found The Anti 9-to-5 Guide, and gave me a call. The book definitely opened that door for me.
All the columnists I know have been tapped for the gig, either by an editor who already knew and loved them or by an editor looking for an expert (author, speaker, or nationally known journalist) to step into the role. Editors tend to be unimpressed by writers who approach them for the first time and ask for a column. Better to prove that you can rock a particular topic (personal finance, home repairs, life after divorce, whatever) and develop a following by consistently feeding an editor great story ideas and copy.
5. You've done articles, copywriting, books, the speaking circuit…where do you see your career taking you in the future?
I've finally had time this spring and summer to catch my breath, step back, and make a game plan. I've always been a freelance writer first and foremost. The copywriting is something I initially did to get in the freelance game and, later, to fill in the financial gaps when my journalism work didn't pay enough. The speaking gigs have been to promote my books.
My immediate plan is to continue getting paid to write articles and essays about careers, personal finance, and whatever pop culture trend strikes my fancy. I'm also meeting with a speaking agent this month to see if speaking on the college circuit is something I can add to my schedule without too much difficulty. And while I haven't ruled out writing another career guide, my longer-range plan is to move into creative non-fiction books, which actually has been my master plan all along.
6. What's the most interesting, quirky, or fun project you've worked on recently, and how did you stumble upon it?
A high-tech firm I used to write marketing copy for recently gave me a Smartphone to fiddle with so I could write how-to articles about the phone and its apps. So basically I get paid to play with the phone and write articles like "How to Use Your Mobile Phone to Telecommute." Fun, and the phone plan is free!
7. I think I settled into writerly work because I'm so shy, and I've always been able to communicate better when dealing with the written word. Was being a part of the speaking circuit ever outside of your comfort zone? If so, how did you get past that initial fear?
It's still outside my comfort zone, but doing at least a couple of book readings in your home town to celebrate the launch of a new book is all part of the author shtick. These are actually a joy to do. Friends, family, and clients come. Local bookstores are incredibly supportive (and psyched for the extra foot traffic), and sometimes the local media even throws you a bone.
Although I still have to psych myself up before each talk and I sometimes get terribly nervous, it's definitely gotten easier with time. I've also found that unless you're speaking to a bunch of suits (not really my crowd, so not an issue for me), it's okay to work your personality quirks into your talk. People appreciate hearing from someone who's real, approachable, and potentially as goofy as they are.
8. You were a writer-in-residence at Hedgebrook. Feel free to share details so that we can all live vicariously through you…but for those of us who don't necessarily have the ability to go away on a writer's retreat, what are your tips for creating a working sanctuary at home?
This story I wrote about Hedgebrook says it all. It's heaven to leave all your deadlines, RSS feeds, bills, stresses, roommates, etc. behind and do nothing but sleep, eat, drink wine, write, edit, talk shop with other writers, and stroll through the woods for a week or three. Time passes much more slowly without Twitter, and you get a ton of work done.
Though I've never been able to recapture the bliss of Hedgebrook at my house, retreating to my home office, kicking everyone out of the room, and shutting down everything but the Word doc I'm working on and my writing soundtrack of choice definitely helps. That's not to say I always succeed at staving off the countless distractions of working at home, but I do what I can.
9. If you could purchase anything for your home office, what would it be?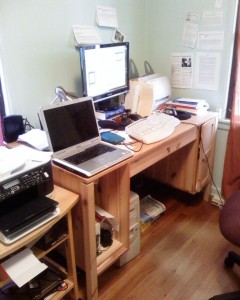 I always thought it would be cool to store my clips and magazines in one of those flat file cabinets that architects use. I probably won't splurge on one any time this century, though. I am, however, planning to move my office from the second bedroom in my house to my garage so I'll have more space. I may even put a couch in there.
10. Aside from your own books, what are your favorite resources for the burgeoning professional in his/her 20s or 30s?
On My Own Two Feet is a great book on getting real with your finances in your twenties and thirties. I wish I'd had it when I was 30. And How'd You Score That Gig? is a great resource for those wondering what it's like to work in some of the most coveted jobs out there (from film production to nonprofit management to clothing design). My favorite career columnists/experts for young professionals are Marci Alboher, Alexandra Levit, Lindsey Pollak, and Eve Tahmincioglu.
11. What are the toughest aspects of freelancing, and how do you deal with them?
In the past couple years, I've been really, really burned out at times, to the point where I've had zero interest in my work for weeks on end. (This often comes as a surprise to people who look at what I do and think, "Dream job!") When I'm that fried, the only way out is to slog through any immediate deadlines on my plate as quickly as possible and take at least half a day off to sleep, read, zone out in front of the tube, romp around outside with my mutt, or do anything else that's not related to work.
…
Thanks Michelle!
Related: My (More Than) 5 Favorite Things In: The Anti 9 to 5 Guide, 6 Things I Like About My So-Called Freelance Life, Home-Schooled: 20 Books To Build Your Freelance Life Upon