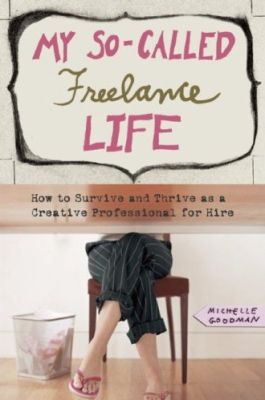 In the midst of blogging, Christmas shopping, and tree trimming, I've been sneaking away all week to steal some alone time with My So-Called Freelance Life, the most recent freelance survival guide from alt-work guru Michelle Goodman. And let me tell you. It is good.
Which is why I'm taking a break from our usual Thursday interview to introduce you to a true source of infinite wisdom, in paperback form.
Honestly? This is the book I wish I had a year ago.
Goodman's book provides most every bit of info you could possibly hope for, for both the novice freelancer (or one still preparing to take the leap) and the veteran. Here, 6 things I like most about it:
1. Goodman stresses the importance of a business plan — whatever form that may take — and strips the term of its scariness by describing it as a list of freelance goals. Later on in the book, she talks about drawing up a list of dream clients…a mix of both fun and bread-and-butter types. I find that this helps me focus my goals even more. I draw up both my "business plan" and my Dream Client List over at Ta-da Lists. Feel free to type up something more involved, but nothing gets me motivated like a detailed to-do checklist.
2. One of the biggest drawbacks to full-time freelancing lately — for me, personally — has been the loneliness and solitude. Days pass where I don't leave the house, even to drop something in the mailbox right outside. My primary source of communication and conversation becomes Twitter and Gmail. I start talking and/or reading aloud, both to myself and to my three cats. Which is why I'm thrilled with Goodman's inclusion of resources for finding a home office away from home. These include collectives, writers' rooms, and more. (I am so in love with the idea of artist retreats.)
3. I know that I need to run my business like a…well…a business in order to distinguish it from my other time-sucking hobbies, but business matters were never my forte. Which is what makes the section on how to make your business legit so invaluable. Here, the book delves into business licenses, accounting,, LLCs, etc. Goodman even includes a sidebar with "legal advice that won't break the bank," listing professional associations, legal clinics, websites, and more.
4. My nightmare: Setting rates. Closely related nightmare: Budgeting. Is it any surprise that the two are so inextricably intertwined? Naming your price is made simple here with step-by-step instructions for figuring out a budget, which then leads to determining an hourly rate.
And you know those moments of sheer terror when you're caught off guard because someone has asked you for your rates? Or your ideal salary? Or the cost of a project?
No? That's funny, because I feel as if I mess this up every time! Goodman puts the (right) words right into your mouth, so that you don't end up screwing yourself over with too-low rates.
5. Perhaps the best thing about My So-Called Freelance Life is that Goodman doesn't traffic in mere platitudes. She obviously has the credentials and the experience, and is willing to share the specifics of what you need to know in order to be a successful freelancer. In that vein, she even includes the questions you should ask about a project before accepting it and items that should most definitely be included in your contract.
6. Oh lord, so much else.
I've only scratched the surface here, and I'm hoping it's enough to make you pick up your own copy of the book. If you've already read her Anti 9 to 5 Guide, you probably need no prodding (this was the book that inspired me to take the steps necessary to leave my full-time job in publishing). Add this to your collection of freelance references. You won't regret it.