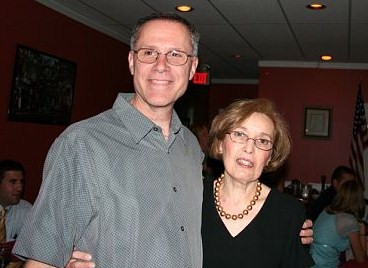 I did not make life easy for my parents.
During my toddler years, they worried over my introversion. During my junior high/high school years, they worried over my fiery temper. During my college years, they worried throughout the course of an abusive relationship I couldn't bring myself to leave, and then worried some more when I fell into a deep depression and dropped out of college. (I eventually went back to [a different] school and earned my degree.) Post-college, they passed me onto a possibly masochistic husband with a sigh of relief, but still couldn't help but worry over all my ups, downs, and interminable plateaus.
Throughout the duration, they've (for some wild reason) continued to support me in everything I do.
This past year, I've been a bit…down.
I was researching career coaching certification programs almost a year ago when the newspaper I was working for folded, leaving me unable to afford the path I had plotted out for myself. As time went on, I was unable to regain the income I'd lost, despite the progress I did make breaking into new writing markets. A couple of months ago, my regular income dropped even more.
Lately, I've felt stuck. Unable to save money, I've watched my certification plans slip away, seeming more and more distant every month. It's something I've never lost interest in but, every month, it's felt more impossible.
This morning, when my mother came for her weekly coffee-and-a-bagel visit, I was feeling particularly despondent. I explained my frustration to her. Later on in the afternoon, my mother called on the phone, stating that she and my dad had discussed things, and wanted to offer me a zero-interest loan for the certification program.
I've been feeling a mix of emotions since:
Shame:
I'm a failure, aren't I?
On the brink of 29, why can't I fend for myself? And why haven't they thrown their hands up in disgust by now and walked away?
Fear:
I'm terrified, really.
While I've always felt fairly confident that I could make wonderful things happen once I had my certification…what happens if I don't? What happens if I fail?
It's one thing to fail with my own money. It's another thing entirely to fail with theirs.
Gratitude:
I feel like crying. I have been crying. I feel as if my heart could burst.
This is my family, and they would do anything for me. Knowing this blows me away.
…
I'm curious: Do you think less of me now? Have you ever had to put aside your pride and lay yourself at someone else's feet?
Am I doing the right thing if I accept?