Quite some time ago, I signed up for Brazen Careerist, a network for young professionals that allowed me to share my blog feed and connect with other awesome people like myself. (You may have noticed the little bookmarklet at the bottom righthand corner of my blog.)
Today, Brazen Careerist has launched itself in a whole new way.
A career management tool, Brazen Careerist is now focused on the sharing of ideas, and the furthering of careers collaboratively rather than independently. Looking back on how those I've met online have helped me out in terms of advice, contacts, etc., it makes sense. The overwhelming generosity of my peers continues to blow me away just about every day, making it clearer and clearer that these people are my community…not my competitors.
If you end up joining the Brazen community, you'll find it easy to follow the inner workings your growing network…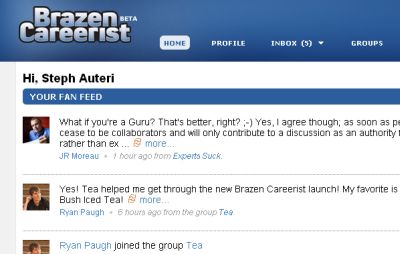 …share your own content and ideas…

…and search for other like-minded individuals looking to make a connection.
I definitely suggest signing up, if only to make my own network even more unstoppable. 🙂