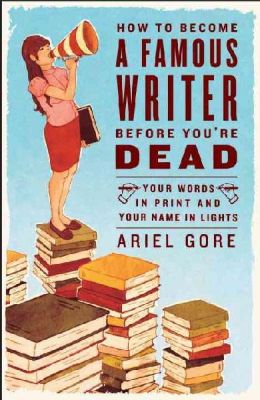 It was a long time coming, but I'm finally comfortable with telling people I'm a writer, rather than someone who just "writes on the side."
A famous writer, however? Perhaps in the eensiest of eensy weensy circles. Obviously, it was time I read Ariel Gore's How To Become a Famous Writer Before You're Dead.
When I first dove into Gore's book, I expected a lot of the typical how-to material…the stuff I already knew about writing query letters, researching markets, and more. And there was some of that. But I soon learned that the real guts of the book embodied getting published…by any means necessary.
Because the narrator of this book is a DIY-er. A zinester. A guerrilla book tour guru. And she knows how to get shit done. So in between the interviews and the homework assignments — stuffed in between the chapters on how to find an agent, and how to put together a book proposal — was the lesson that it's not necessarily about who you know…it's about who knows you.
So how are you gonna get the word out?
I was fascinated by Gore's fierce loyalty to print publishing, especially when it comes to zines. In fact, there were only five short paragraphs on blogging throughout the entire book. Do you feel that zines still have a place in society, or has everyone simply taken to the blogosphere?
Gore is also a proponent of self-publishing, if that's what it takes to get the job done. How do you feel about building a portfolio based upon zine clips and self-published books? Do you feel that these types of clips are considered relevant by editors?
And what about money? If you've read this book, do you feel that the tactics described within are more suited to beginning writers? Do you feel that more seasoned writers have something to learn in these pages? Or — especially considering the brouhaha surrounding content mills and embarrassingly low rates — do you feel that some of these more unconventional means of getting published could actually be detrimental to writers?
I'd love to know your thoughts. Gore's enthusiasm was infectious, but it's interesting to consider how her methods relate to writers' stances concerning fair payment and the like.
Related: Better Than Money