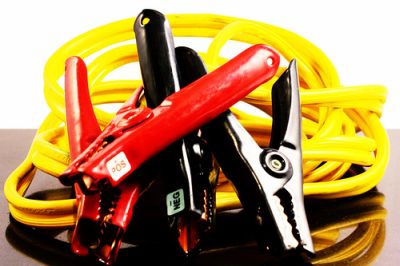 Sometimes, when I'm at the office, I'll finish up a project and be completely unable to start something new, just because there's a meeting in 30 minutes. And even if it's totally possible for me to whip up a blog post within those 30 minutes and set it to go live, I won't.
Because my mind is occupied with waiting.
And that's pretty much how I've been feeling these past two weeks.
Two weeks ago, my grandfather was diagnosed with an aggressive form of cancer, and given but a few weeks to live. Since then, the relatives have filed in to town in order to say their goodbyes, and I've veered back and forth between stoic, sloppy drunk, and weepy. Because — while he's almost 99 — the diagnosis still came as a shock.
And so, my mind has been occupied with waiting.
In the meantime, my ongoing copywriting project remains ongoing. I've tried to hold things together at my part-time YourTango job. I've made an effort to play the cheerleader for the FLX Query Challenge team I'm leading. I've fielded e-mails from possible clients seeking me out.
But I've also neglected Freelancedom (I'm so sorry you guys!) and, though next week is my last career coaching teleclass, I've failed to move forward in securing practicum clients. I mean, all I have to do is put together my intake packet and write up a post for the contest I've been planning…but…you know…my mind has been occupied with waiting.
Earlier today, I chatted with my mentor coach and told her how stuck I'd been feeling lately. She asked me: What would your grandfather say if he knew what you were struggling with right now?
And while I'm not sure what he would say, it did dawn on me that completing my certification and starting my practice would make him very, very proud.
And so I have to stop waiting. Because we don't have very long. And I really want to make him proud.
But! If you notice that I'm still struggling, despite having many excellent reasons to move forward, for the love of god, please fetch the jumper cables.
Related: When Every Day Is Sunday, How to Remain Productive When the Shit Hits the Fan