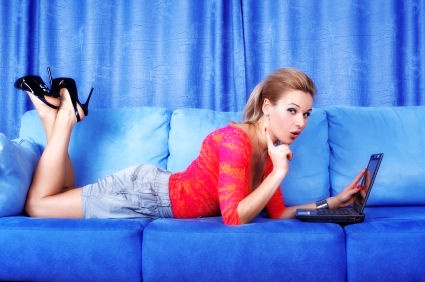 [Obviously, this is what I look like when I work from home.]
The other day, I tweeted about how I'd been making preparations to sell my condo. Specifically, I said: "Our condo has never looked better. But do u think buyers will be scared away by the 'intimate portraits' in the bedroom?" And then I linked to this old post from my now-defunct personal blog, containing pictures of said "intimate portraits." The post itself was about new things I had experienced lately thanks to various writing assignments.
Reading back through that post made me realize that my blogging had been missing something crucial for quite some time now: the personal. Is that why I'd been feeling so stuck lately? (Well. Aside from the whole being-too-busy-to-blog thing.)
When I first started Freelancedom, I intended for it to be more than just a how-to blog. Rather, I wanted it to be about the freelance lifestyle in general, and my freelance lifestyle in particular. I wanted readers to know about how I obsessive-compulsively created spreadsheets and to-do lists in order to track my freelance queries. I wanted readers to know about the ANTM marathons I succumbed to at the beginning, before the work really started to pick up. I wanted readers to know about the perpetual tightness I have in one knee due to sitting cross-legged with my laptop in bed, for hours on end.
Of course, I want to be of value to you as well, which is why almost all of my posts are so service-y. But you tell me. Does my life have a place on a blog about the freelance life?