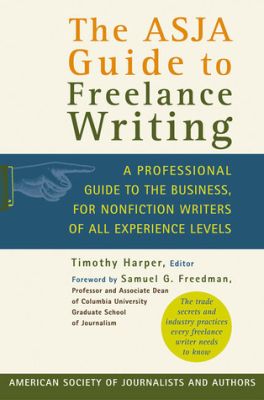 About a month ago, I attended the annual American Society of Journalists and Authors (ASJA) conference for the first time ever, having snagged a free day pass because I was a panelist.
I had a fantastic time. I popped my public speaking cherry. I took a shit-ton of notes at the other panels I attended. I drank too much wine at the end-of-day cocktail party and met some pretty darn awesome writers. I was so impressed by the strong community of professional freelance writers that I wanted moremoreMORE!
So I applied to be a member and then sat back and waited.
And then I got fidgety and impatient and started reading the copy of The ASJA Guide to Freelance Writing I'd picked up the conference.
Just the other week, I devoured Kelly James-Enger's Writer for Hire, marveling at the fact that I could still learn something new from writerly self-help books. After all, I've read so damn many of them.
The ASJA book surprised me even more.
In fact, I ended up dog-earing about five trillion (13) pages.
The best thing about this book was the fact that every single chapter was written by a different ASJA member. This gave them the chance to really delve into the nitty-gritty of what they were most knowledgeable about, leading to chapters just filled with concrete, step-by-step tips, resource suggestions, and more.
For example, Erik Sherman's chapter on starting a writing business was a good reminder that I should revisit my business plan, my budget, and the ways in which I seek out work. Â I bookmarked his step-by-step process for setting financial goals.
Lisa Collier Cool's chapter on successful magazine queries forced me to admit to myself that my own query letters had been feeling a bit stale lately.
A chapter on research tactics written by Minda Zetlin and investigative journalism expert Steve Weinberg listed a slew of great resources both online and off.
Estelle Sobel's chapter on finding expert sources provided me with even more resources.
And Richard A. Marini taught me everything about contracts I wish I'd known before, inspiring me to start negotiating shady contract terms instead of settling for craptastic work-for-hire agreements.
There's more, of course, but I don't want to give away the whole damn book.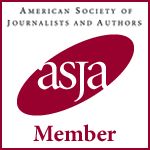 What I'm trying to say is that the members of ASJA are prolific and seasoned journalists, and I felt lucky to have the chance to learn from them. Perhaps the next best thing to ASJA membership?
ASJA: The resource that keeps on giving.Luckily, I was informed last week that I'd been accepted as a member, and I've already flown through two issues of ASJA Monthly, and have hopped into the online forums with both feet.
In the meantime, check out that book, yo.
Related: How to Achieve Full-Time Success with Part-Time Hours, Are Professional Organizations Worth the Cost?