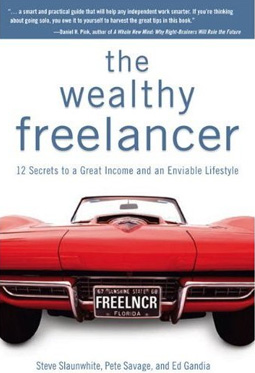 Now that we're back to business as usual here at Freelancedom, it's time to focus on the important stuff: Taking our businesses to the next level. Elevating them beyond mere hobbies so that they're legitimate sources of income. Becoming wealthy freelancers, no matter what wealth means to you.
I had seen lots of online love for Steve Slaunwhite, Pete Savage, and Ed Gandia's The Wealthy Freelancer before I broke down and picked up my own copy. Why did I wait so long? Being a raging book nerd, with a particular love for self-help-y career titles, I had started to feel as if none of the books I was reading had anything new to say.
The Wealthy Freelancer exceeded my expectations by… well… a lot. As I mentioned in a related post, the book is so much more than inspirational mumbo jumbo. Rather, it contains concrete tips and step-by-step instructions for making it work.
I'm curious to hear if you loved it as much as I did, and whether or not it had anything new to teach you. Just as with last time, I'd love for you to share your thoughts in the comments section of this post, in addition to your responses to the following questions: