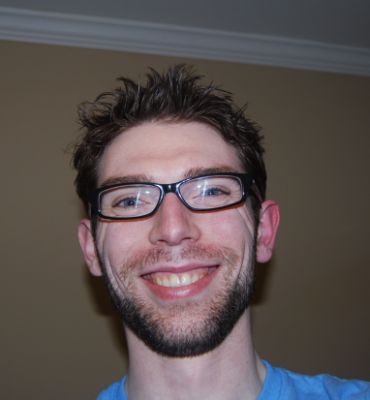 Hey guys! Welcome to a new weekly (fingers crossed) series, The Infinite Wisdom of Others, in which I e-interview other freelancers and small business owners about how they do what they do.
If you enjoy what you see here, please do consider participating yourself.
Kicking things off is my husband, Michael Auteri, a copywriter by day, web designer by night (and weekends):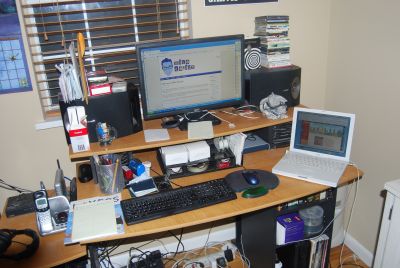 1. First of all, please explain to our readers what your freelance business is, and how much of your time you devote to it.
I've been in the web design and development business for about eight years. My projects range from simple static sites to more dynamic web apps. All sites I create are standard compliant, accessible, sear engine-friendly, and easy to navigate. Like most people, I started off taking whatever work I could get to build my portfolio. Now I can be a bit more selective, especially since my time is very limited, as I also have a full-time job as a copywriter. My wife always thinks I'm working, but honestly I probably only work about 8-10 hours a week.
2. Why did you choose this particular set-up for your freelance business?
Full-time freelance is way too volatile for me. I'd probably give myself an ulcer if I didn't have the stability and regular paycheck from my full-time job. However, I also don't like being on a one-paycheck budget, so freelancing helps me out there by supplementing my income. It really is the best of both worlds. Further, there's no conflict of interest, since I'm a copywriter from 8-5.
3. Why did you decide to freelance in general? What drew you to this type of work?
I kind of fell into it, actually. In the beginning of my senior year of college, I was in dire need of cash. I called my dad for money, but he told me to get an on-campus job. So I interviewed for a lab assistant job in the computer services department. During my interview, I mentioned that I dabbled in web design, and that seemed to not only land me the lab assistant job, but a freelance gig for my boss's computer consulting company. Been freelancing ever since!
4. Do you find that your full-time work can sometimes help you with your freelance work, and vice versa? Do the two worlds overlap in any way?
Always! My company, like almost all companies these days, is on the web. So we do weekly e-mail promotions, which I contribute to as a copywriter who is very web savvy. I have to be careful not to step on any toes, though. I have to remind myself occasionally that I am NOT the web designer at work.
It also works the other way. As a copywriter, I have honed my promotional writing skills, which is very important when it comes to web copy. And since I work with a bunch of artists all day, I have picked up a lot more Photoshop skills just by asking the question, "How did you do that?"
5. How do you see your business growing in the future?
Right now, I have just about as much work as I can handle. I have recently picked up a partner for a particularly complicated job. We work pretty well together and have spoken seriously about putting together a partnership of some sort. If we did this, it might be my ticket out of the cubicle, since the plan is to take on bigger companies with bigger budgets.
I do, however, plan on keeping Mike Design (my current company) around for my current clients and other, smaller clients I may pick up.
6. What are your favorite resources for the burgeoning web designer (or other freelancer)?
You mean besides Freelancedom.com??? Well, my biggest resource is sitepoint.com, which has all the latest trade news. I also visit alistapart.com occasionally. Quirksmode.org is the home of JavaScript guru P.P.K. (Peter-Paul Koch). PHP.net is the manual to PHP (so I go there quite often). Other than that, I am also active on a few of the LiveJournal web design forums, and very active in the NJ web design/PHP/blogger meetup group.
7. What are the toughest aspects of freelancing, and how do you deal with them?
The business end of it is pretty rough, for me at least. Most businesses, especially these days, are trying to pinch every penny they have. Making sure you get paid a fair wage can be very trying. Especially when you're up against strong, business-savvy people. Also, maintaining a full-time job and a freelance job, which at times can feel like a second full-time job, is no piece of cake, either. I'm exhausted most of the time, and just want to watch CSI.
FURTHER, contacting all the people and businesses that paid you more than $600 at the end of the year for your 1099 is a pain in the arse. I'm considering maybe setting myself up as an LLC eventually, just so I don't have to deal with 1099s anymore.
8. If you could purchase anything for your home office, what would it be?
A home (well, a house; we live in a one-bedroom condo right now), so I can finally have a private office and not listen to the incessant singing of "Hot 'N Cold" by my wife while I try to concentrate! But in the short-term, I want a copy of Abobe's CS4 Web Premium Suite, which is ONLY $600 if I buy it before the end of the year. It's marked "highest" on my Amazon Wish List.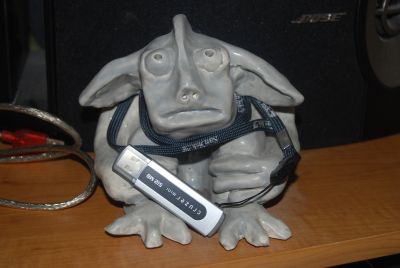 Mr. Gargoyle has been watching me work since the beginning.
9. What are your favorite websites out there, in terms of content, design, etc.?
I love Amazon.com; they do e-commerce the best. Wikipedia is my go-to site whenever I have a question about anything. Dictionary.com for spelling; Google for searching. I guess I'm not really UNIQUE when it comes to my favorite sites.
A big concern of mine, though, is that a lot of these very popular sites still aren't standard compliant, fully web accessible, and semantically marked up, which is a travesty in my opinion. For instance, Amazon.com is missing its doctype (I just checked)! This doesn't really affect most viewers and many of you probably don't even know what a doctype is, but web designers are the types that "look under the hood" when we are viewing sites. When we see messy code on popular sites, it hurts and sort of angers us a bit, I guess. Maybe we are just elitists, which is probably more accurate, actually…
…
You can find examples of Michael's work here. He is also working on a URL-shortener called liltext.com. "It's in its first stage of development (read: it's not all that impressive), but I hope to implement the social networking aspect of it very soon."
Where you can keep track of Michael: Plurk, LinkedIn, Facebook, MySpace