The Flip Mino – An Intro from Steph Auteri on Vimeo.
Hey there guys. A couple months ago, I was reading about the Flip Mino, and how it was the new It tool for journalists everywhere. Why? You could use it both to take interviews and photograph subjects, and its slim, sleek design made it ideal for on-the-go reportage.
Did this mean my audio recorder and fancy schmancy DSLR were obsolete? God forbid, people. God forbid.
Anyway. The people behind the Flip Mino ($179.99) were kind enough to send along one of their products, for review puposes. For the sake of comparison, RCA also sent me their Small Wonder. The nitty-gritty, after the jump:
Aesthetics: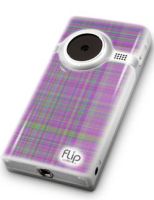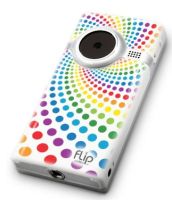 I felt a little giddy when I learned that I'd be able to customize my own Flip Mino. It made sense, though. Its customizability is one of its main selling points in a market where individuality is coveted. I ended up choosing the popular rainbow spiral pattern, on the website's extensive library of patterns, but I also considered generating my own pattern (upper left), or even uploading a photo of my cats (too much, right?).
In addition, the Flip Mino is slimmer than its RCA counterpart (which is slightly bulkier), and its controls are reminiscent of those on various iPods across the land.
Additional Features:
Both the Flip and the Small Wonder have tripod screw mounts. What the Flip does not have are a button for taking photos (photos can only be pulled from the videos you take) and a flip-around lens for recording yourself.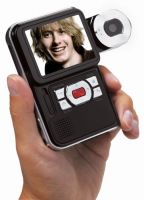 This is a shame, and (in my opinion) a missed opportunity. I'll be interested in seeing if these are features that the makers of the Flip Mino decide to add in the future.
Also on the bodies of both the Mino and the Small Wonder are built-in USB attachments. The attachment on the Mino allows you to easily upload videos to your computer, in addition to charging your gadget through the USB connection. The one on the Small Wonder is also present for uploading purposes, but an additional attachment is included with the camera so that you can plug it into your wall for charging.
Quality:
I've found both the video and audio quality on the Flip Mino to be pretty damn good, even in low lighting. Check out this video I did up using the Flip Mino, for use on the Modern Materialist:

Test Drive: Flying Wish Paper from Steph Auteri on Vimeo.
In comparison, the video I took on my Small Wonder came out much darker, and I could barely discern what was being said. (Boo!)
One thing the Small Wonder did have going for it, however, was its superior zoom capability.
Uploading and Editing:
The first time I plugged my Flip Mino in to my USB hub, I was guided through a quick auto installation of the software. Afterwards, the editing software itself was incredibly easy to use.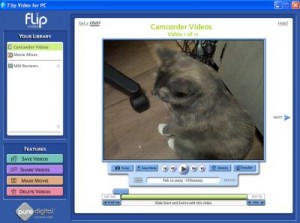 You can use the dashboard to pull video stills and save them as image files; clip the beginnings and ends of your videos; make movie mixes using your saved videos; and share your videos via e-mail, greeting card, or an upload to AOL Video, YouTube, MySpace, or any other video hosting site. I chose to upload the following video to Vimeo, so my Flip Mino software converted the original video into a more compact file, and saved it to a folder on my desktop. I then uploaded it in the usual way.

Untitled from Steph Auteri on Vimeo.
As you can see, the Flip Mino can ably handle action shots (if the movements of my cat Lusa even count as "action").
In the end, I fell in love with my Flip Mino.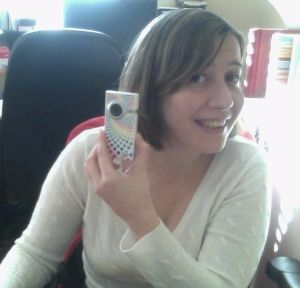 Not only will I use it to take many more videos of my cats (you should see the one where I repeatedly ask Gizmo to hold my hand and give me "lovies"), but I can see myself relying on it in the future for journalistic purposes as well.
Please do leave a comment, or e-mail me, if you have any additional questions about either the Flip Mino or the RCA Small Wonder.