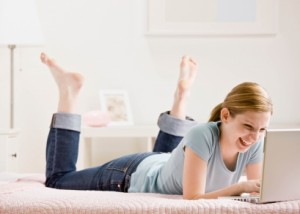 I'll admit it.
I only wanted my husband to get his laptop fixed so that I would never have to leave the cozy safety of my bed ever again.
I loved propping up several pillows behind my back, setting up the small breakfast-in-bed tray, and writing, tweeting, and surfing Etsy to my heart's content. It was relaxing, and appealed to my inherent laziness.
So it drove me crazy that he was taking his sweet old time replacing his laptop's defunct power cable.
Then he presented me with an early birthday gift, and suddenly the possibility afforded by mobility seemed limitless!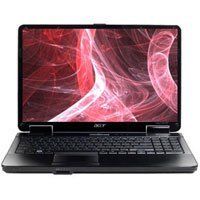 He picked me up this Acer AS5516-5474 and, after amusing myself for some time with its bubbles screensaver, I began to think of all the places I could go with my laptop:
the local park: I'm often reluctant to head back indoors after my morning walks, and usually think wistfully of how nice it would be to have a laptop to take to the local park. Now I do!
Panera Bread: Well…Panera Bread or any other establishment offering free (or cheap) WiFi. I love my cats, but it would be nice to surround myself with human beings every once in awhile.
Meetups/Tweetups: My husband and I attend a web designer/blogger meetup every month at Panera Bread, where participants bring their laptops and show off their gadgetry and web work and trade troubleshooting tips.
trips into the city: I live in the NJ suburbs, but sometimes have to travel into NYC for appointments or social engagements. When I end up with time to kill, I usually feel lost without a home base, despite the book I always carry in my bag. I'd feel much better if I was getting work done.
vacations and other long-distance trips: As a blogger with a daily quota, time away often translates to pre-trip stress, due to all of the stockpiling that has to be done. Being able to take my work with me eases that stress.
Where do you like to take your work?