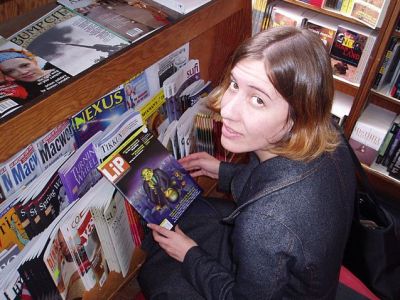 I've always had a thing for glossy magazines.
It started with Highlights and, since then, I've subscribed to maybe 30 or 40 different titles (seven of which I'm still subscribed to now). And while they've never held the same allure for me as those thick paperbacks I'm constantly losing myself in, they provided me with something even better: a vision of my future as a writer.
I was going to write up a different post today. One on the benefits of online education. But then I was blindsided by the news that Conde Nast is folding Gourmet, Cookie, Modern Bride, and Elegant Bride, and I felt a sharp pang of sadness, followed by a little shiver of fear.
Have you guys felt it, too?
It started awhile ago, when long-form essays started disappearing in favor of listicles and front-of-book blurbs. Then Domino folded. It was the first time in awhile that one of my faves had gone kaput, and it hit me harder than that long-ago closure of Jane (a magazine that, once upon a time, I dreamed of working at). Since then, I've been spending most of my time writing for online publications, but I don't feel secure there, either. Advertising is down across the board and, until someone can figure out how to properly monetize online content, the publishing world is officially adrift.
I could try to break into corporate copywriting (something I haven't done since working in the marketing department of an academic book publisher). I could try teaching (something that terrifies me, due to my social anxiety). But all I really want to do is write things that my peers would love reading.
But it's more than that, too.
I'm working toward my career coaching certification, and would like to eventually open a private practice focused on the publishing industry. I'm working on a book proposal that is also focused upon jobs within the publishing industry. I could concentrate on other areas, and I could succeed. But what I really want is to believe that there's something there. That there's still work to be done and people I can help.
Because I've been wanting this since the age of 5.
That and to be a ballerina.
The ballerina thing didn't work out, but publishing is still something I love very much.
Are other people nervous? Are any of you shifting your career focus to account for the current mess? How have you found happiness? Security? How have you made your word nerd status work?
Related: 10 Side Jobs for Freelancers, Reevaluating Your Life, Setting Business Goals: 3 Questions To Ask Yourself