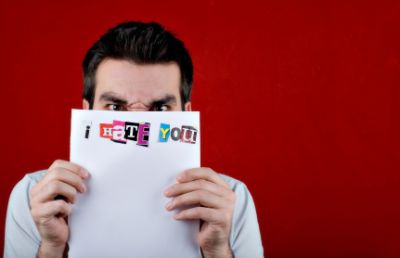 The other week, I wrote a post for YourTango's LoveMom blog, about my struggles with chronic depression and PMDD, and how it was affecting my decision to start a family. It was something that had been on my mind lately. I was worried about my hormones and postpartum depression, and about the strain I might place on my marriage. So when I wrote up my post, I really put it all out there, describing my ugliest moments and my worst fears. I was nervous about pressing the "publish" button, but I felt it was important to be honest. I thought that there would be people out there who could relate.
Then the hate comments began rolling in.
The worst of them are here at The Frisky (who posted an excerpt of my piece) but, just to give you a recap, most commenters felt that I was selfish for wanting to have children, and they also assured me that my husband would eventually leave me… no question.
I've received negative comments in the past. Some of them have been constructive and thought-provoking. Some of them have been slightly crazed. Some of them have even made me laugh (a commenter over at Nerve once called me a "metrosexual-loving illiterate"). The logical, sane part of me has long since come to understand that I can't take comments personally… I have to grow a thicker skin… responding to illogic with logic is futile. But this was the most brutal and cruel attack I had ever experienced and — I'm not gonna lie — I wanted to go home early, curl up in bed, and cry. (Yeah, yeah… I'm a wuss.)
But then I remembered a Copyblogger post I had recently read: 20 Warning Signs That Your Content Sucks. Number seven? "You've never received hate mail."
Jonathan Morrow writes, "If your content is good, you'll always have a small but vocal group of people who think you're wrong, rude, or inconsiderate. They are the righteous majority for moral authority, and nothing you can say will appease them. So don't try. Their mockery and screams of outrage are merely signs that you're headed in the right direction."
So — considering the volume of super-mean comments I've been getting — I'm going to take this as a sign that I'm finally a bona fide success. Other signs that I'm on the right path? Positive feedback both online and at work. Comments that thank me for being so brave and honest, from people who are experiencing the same (or similar) thing. People approaching me for work, rather than the other way around.
How about you? What was it that made you feel you were finally on the road to success?
Related: The Vulnerability of Writers, Baring It All: Personal Essays Are Tough