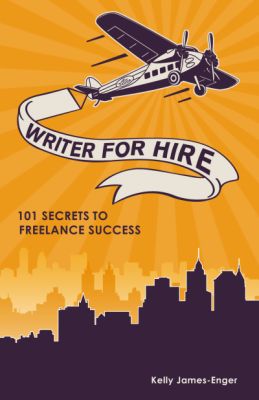 Forget grad school. As most of you know, I'm a huge proponent of learning by doing. Of course, before I do anything, I also typically read a shit-ton of books. (All of the education at a fraction of the cost!)
Back in 2007, it was Michelle Goodman's The Anti 9-to-5 Guide that got me up and running as a full-time freelancer. Later on, I read My So-Called Freelance Life (also by Goodman) and wished I'd had it from the very beginning.
Last week, I speed-read Kelly James-Enger's Writer for Hire: 101 Secrets to Freelance Success and realized it was the book I should have had when the economy — and my business — first hit the skids. Luckily, no matter how long you've been freelancing, there's always something to learn.
I've been reading Kelly's blog — Dollars and Deadlines — for awhile now, and also recommend her book on ghostwriting and coauthoring — Goodbye Byline, Hello Big Bucks — to just about every writer I come into contact with. So I was thrilled when I heard she had written a new book. In fact, I devoured the entire thing in two days, dog-earing pages on market research, story ideas, reprints, and contract templates.
What struck me the most, however, was that Kelly had created a level of success that allowed her to bring in a full-time income while working part-time hours.
Basically, my idea of perfection.
After the jump, Kelly is generous enough to share how you can do the same. [Read more…]