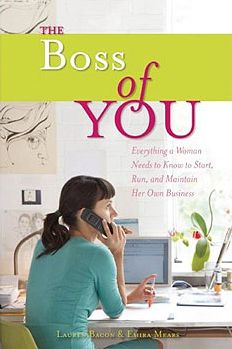 Seal Press is a goldmine (I swear, they're all I've been posting about lately) and, though the press is aimed toward women, many of their how-tos and handbooks are relevant to men as well. Which is why I don't mind bringing up another one of their books, Lauren Bacon and Emira Mears's The Boss of You.
After reading this book, I feel prepared to rethink and re-tackle the way the way I went about starting up my at-home business and, after reading the 7 things I love about this book, you'll see why:
1. Bacon & Mears walk you through the basics of figuring out your start-up costs, something I never bothered doing, as I've never been very good with budgeting in the first place. This was obviously a bad idea. Knowing the amount of cash you'll have to put out at the very start will aid you in drawing up a business plan and asking for loans.
2. After figuring out your start-up costs, you have to — you guessed it — draw up an entire budget, including overhead costs, salary, benefits, and more. Once again, Bacon & Mears remind you of all the possible expenses you should be taking into consideration. This final budget will allow you to figure out the rates you need to charge in order to live the life you want to be living (which I suppose means that I should raise my rates; I'm gunning for a jacuzzi in my future).
3. Paperwork. It's a bitch, but inescapable. Most of us have no idea what's necessary to legitimize and legalize our business. In The Boss of You, you'll find a list of all the paperwork you need to make yourself legit. This includes business licenses,federal tax IDs, trademarking, and more.
4. Do you have trouble talking yourself up? Get someone else to do it for you! Bacon & Mears highlight the importance of soliciting testimonials, and tells you how to use them.
5. After allowing your clients/customers to spread the good word on your behalf, it's nice to show your appreciation. The authors give several ideas for thanking your clients, from contests to referral rewards and more.
6. I've mentioned in the past my struggles with delinquent clients, and even listed a number of web applications that allow you to keep on top of your invoicing. With all of this, it never occurred to me that it would be helpful to include a set due date on my invoices (I'm an idiot). It may seem obvious to most entrepreneurs, but it helped me to read in The Boss of You that invoices should always include set payment periods.
7. The Appendix/Resource Section. It's my favorite part of any how-to, and The Boss of You has a great one, including sites that will help you in drawing up a business plan, government resources, license and registration resources, health insurance providers, and other general business resources.