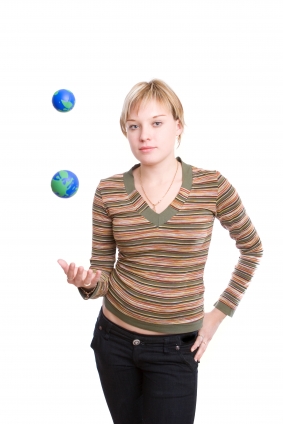 Over the course of the past 10 years, I've juggled on-campus jobs, part-time retail work, temp work, full-time work, freelance projects, and internships, all in varying combinations.
At first, in my earliest post-college years, I considered full-time work to be the obvious end goal and, for a time, was quite proud of myself as I moved up in the world of academic book publishing.
As my longing for more creative work grew, however, I determined that I could only find happiness as a full-time freelancer.
Now, as the New York Sun teeters on the brink of end times, and I find myself losing a main source of income that was more part-time than freelance (except for the 1099), I've been forced to consider that an all-or-nothing approach is perhaps not the best one for me.
And maybe you've come to the same conclusion. Perhaps you've read The Anti 9 to 5 Guide and One Person/Multiple Careers and are already masterminding the perfect balance of multiple income streams. After the jump, the types of income sources you should consider, and why:

Full-Time: Here it is. The alleged dream for those working their way toward college, collecting extracurriculars like coins and writing up application essays in the hopes of someday having a successful career. The benefits? They are manifold. In addition to the steady salary and fuzzy feeling of job security, full-time jobs provide you with health and dental benefits, paid vacation and sick days, and a built-in social network. The career path for a full-timer is also (usually) much clearer, with promotion on top of promotion lined up like the steps on a ladder. It's possible to squeeze in volunteer work or personal projects when you're a full-timer, but it's difficult, and often exhausting. And when children come into the picture (if they come into the picture), much angst and a reevaluating of priorities tends to occur.
Part-Time: Some, but not all, part-time jobs provide benefits, which is a deal-breaker for most people. However, if benefits are of no concern (Ha! Thank god I can sponge off my husband!), the part-time gig can be an ideal source of steady income, allowing you ample time to pursue side projects, continuing education or, um, world traveling.
Flextime/Telecommuting: Let's turn back to the full-time scenario for a moment. As more and more people turn the career ideal on its head with alternate set-ups such as telecommuting and freelancing, employers are starting to see the benefits of providing their employees with a bit more flexibility. If you think such a situation could work for you, write up a proposal for your boss, letting them know that granting you flextime, or allowing you to work from home several days each week, would not take away from your productivity levels, and could even increase them! Point out the positives to them, such as how much they'll save on not having to provide you with commuting benefits.
Freelance: Ah, yes. The reason you're reading this blog. Freelancing allows you to pursue multiple projects from a variety of clients, making it possible for you to pick and choose the work you do (unless you're just starting out and are so desperate you'd write porn reviews for $2 a pop…or something). As a full-time freelancer, the dangers of overworking and underworking are equal. But for some, you just can't beat the convenience of tailoring your schedule to meet your needs. The perennial deal-breaker? The lack of benefits. Luckily, freelancing is something you can do in combination with any other type of gig, as long as you make sure you're not violating any non-compete clauses.
Temp: You can enjoy the variety inherent in freelance work without the hassle of self-marketing by temping. Of course, the work may very well not come regularly, you're at the whim of clients' schedules (most temp jobs are on-site), and the only work available may be transcribing or medical copywriting (::shiver::). Still, if you can find a reliable staffing agency, temporary gigs such as these can provide you with steady enough income to finance your side projects.
Entrepreneurship: Take your freelancing a couple steps further. Define your niche and start your very own business, logo and business account and all. Such a large step has the potential to grow much bigger than just you. I suggest reading The Boss of You in order to determine if this is the right path for you.
Intern/Volunteer: I've already written about the benefits of interning or volunteering. Let me just reiterate that such a tactic can be a great way to lean about and gain experience in a new field, making invaluable contacts along the way. And it's usually possible to find a volunteer or internship situation that fits into whatever type of schedule you have.
Marci Alboher also writes about the "four slashes that go with everything" — writing, teaching, speaking, and consulting. An expert in blogging? Create a blog about blogging, pitch newspaper and magazine stories on the topic, and publish a book. Teach a blogging workshop through a site such as MediaBistro, or the Learning Annex. Become a freelance consultant for companies attempting to set up a corporate blog. The point is to be creative about the ways in which you can parlay one interest into multiple sources of income.
And that's the point of this entire post. I already know that you already know about temping, and interning, and everything else I've mentioned above. What I'd like to drive home to you is that you don't have to settle for just one option. By mixing and matching several job arrangements, you can create a "patchwork paycheck" that fits the lifestyle you want.