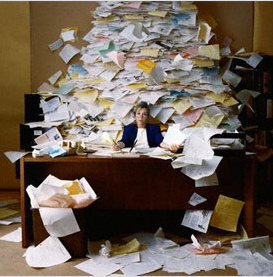 [Photo via]
We fill our resume with words and phrases such as "detail-oriented" and "innovative," and list job responsibilities instead of quantifiable acomplishments and successes.
And then we send it off to an HR associate who has probably received…well, just about as many resumes as the woman in the photo above.
In a time when competition is getting fiercer, and all resumes look the same, isn't it time to start rethinking the way you're presenting yourself?
Cover letters are the place to start. But they won't help you any if you continue to make the same mistakes. It's time to start thinking about features vs. benefits.
Your features are all the best parts of you…those characteristics you're supposed to list on the fly during job interviews.
Benefits have to do with why your possible employer or client should care about your features.
Here are some of the characteristics we tend to list for ourselves, and what they mean for our clients:
Autonomous:
You will never need to hold my hand during the course of a project. I'm confident enough in my abilities to intuit what will work best, and can solve any problems that pop up on my own. I will only contact you if I feel it is absolutely necessary. Don't worry. Your project is safe in my hands.
Budget Conscious:
While I'd love to include all the possible bells and whistles on your custom website/database/T-shirt, I realize that the money you have to spend is limited, and I will work with you to figure out the best options for the cash you have. If I cannot give you everything you're looking for within the budget you have, I will not string you along. We'll talk it out and decide whether or not we should move forward or part ways.
Communicative:
Latest service provider go MIA, and then turn up at the last moment with a finished product of questionable quality? Or a project that wasn't finished at all? Don't worry. Breathe. I make sure to ask all the questions that need to be asked before beginning a project, so that I am able to provide you with the best possible version of exactly what you asked for. And if status updates are what you want, status updates are what you'll get. Similarly, if I happen to hit a snag, you'll be the first one to know. With enough warning for things to get back on track, and right on schedule.
Computer Literate:
Of course I'm Photoshop-savvy. And know my way around InDesign. And have a working knowledge of various content management systems. You don't need to worry about taking the time to train me in any of these things. I'm good to go, and ready to hit the ground running.
Dependable:
I've never missed a deadline, nor delivered a sub-par product. My track record speaks for me. Once you assign me your project, that's one less thing you have to worry about.
Detail-Oriented:
I notice typos in restaurant menus, and sometimes mark up the misspellings in the books I'm reading. I'm just that dorky and compulsive about presenting people with the perfect, finished product. Because of this, you can rest assured that there will most likely be no stupid errors in whatever I deliver to you, and that you will not need to waste time or money going over my work, or making corrections. I believe that a finished product should be really finished.
Diplomatic:
I play well with others. Which means that we should get along just fine. I'll also get along well with whoever else you need me to liaise with, and can smooth over ruffled feathers with a snap of my fingers.
Flexible:
Have some last-minute edits you need me to do for you? No problemo. Need a rush job? You've been a loyal customer. I can do that for you. Prefer a payment plan when I eventually invoice you? I'm sure we can make an arrangement that we can both be happy with. While you shouldn't push me around or take advantage of me, and while I can't always bend over backwards, I will work to make your experience with me a positive one.
Organized:
I keep excellent records, and can provide you with your misplaced database files or a detailed breakdown of my time sheet at a moment's notice. 10 years later.
Results-Oriented:
Some people are only interested in getting the work done with the least amount of effort possible. I'm interested in providing you with the most bang for your buck, and in making your company grow along with my own. Why wouldn't I want to help you succeed in the long run?
…
Start thinking this way before you make your next cold call or send your next query letter. It's not all about you. It's about what you can do for them.