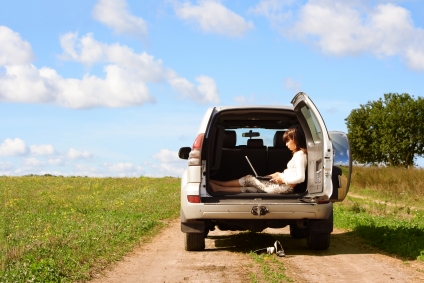 Back when I was working in book publishing full-time, trying desperately to establish myself within the NYC media world, I felt stuck: tied to the area in which I was living, unable to move even the slightest bit west, due to the extent to which my daily commute already exhausted me.
Now, with my office a mere few feet from my bed, a world of possibilities has opened up to me, and I daydream about walking amongst the streets of Boston as a native…driving to the supermarket in Bucks County, PA…pushing a Bugaboo through the family-heavy streets of western NJ.
Last weekend, my husband and I even took a drive to Warren County, NJ to check out some open houses, and I fell in love with a four-bedroom house with muted purple shutters and a sunny front office: the type of house you could grow with.
What do I, as a freelancer, look for in a future home? (aside from expansive kitchen counter space, walk-in closets, and a decent school district…) A Space Worth Working In:
At the moment, my husband and I share office space in what was originally meant to be the dining room. Is it any wonder that I like to daydream about my future office space? My deal-breakers: natural light, room for file and book storage, and a door with a lock on it. When we look at houses, it's imperative that we seek out homes that have enough rooms for both work and future children.
Free Wi-Fi:
I'll admit it. I don't leave my condo nearly enough. But it's nice to have the option of packing up the laptop and taking my work on the road. Where I live now, I can easily drive over to Panera Bread, where they offer free, unlimited Wi-Fi during their off-hours. Hopefully, my future neighborhood will offer similar options. Luckily, I can find out such things beforehand by using the 30+ tools in this Mashable post.
Health Insurance:
At the moment, I'm piggybacking on my husband's health insurance. Someday, however, this may not be an option. In addition to his full-time job, Michael also takes on freelance web development projects on the side. He and his business partner have recently been considering going full-time freelance…someday. Individual health insurance can vary in both cost and availability from state to state. For some tips and helpful resources, check out this open thread over at Freelance Folder.
A Community of Freelancers:
Because I live so close to NYC, there's no shortage of MeetUp groups, networking events, etc. This could be the thing I miss the most when I eventually leave this area (that and the ability to pop in on my parents when I need a baking pan). To see if a community you're considering offers opportunities for networking and basic human contact, check out some of these sites previously mentioned on Freelancedom, or try starting your own writing or networking group. You can also look for coworking setups like this one, at this coworking Wiki, or even just search for local Twitter users using apps like TwellowHood.
Sunny Weather:
Due to both my CFS and my chronic depression, my levels of motivation can be strongly affected by sunshine, or the lack thereof. If you're the same, you may not want to move someplace like Seattle, where it rains most of the year. I love the site Find Your Spot, which suggests U.S. cities you might enjoy based upon the results of a detailed questionnaire. Questions about temperature and other weather conditions are included, and results include details on various cities' average highs and lows, annual precipitation, and annual snowfall.
Cultural Offerings:
My ideal neighborhood would come complete with belly dancing, hoop dancing, and salsa classes, nearby concerts, and lit events. As a writer, most of my ideas are generated through life experiences. When you're not experiencing much beyond your own front door, your list of story ideas can become stagnant. Check the event listings in a city's local paper to get a feel for the area'c culture, or use a site like Citysearch to see what's going on nearby.
Now we just need to figure out how to perfectly time the selling of our condo and the buying of a house, and how to remotely find Michael a new job. Oy. (Please. For the love of god. Share your success stories.)
Related: Product Placement: My Dream Office