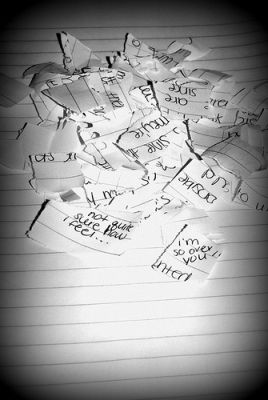 [Photo via]
We already know that I'm a raging commitment-phobe. As such, I've had a lot of practice saying goodbye.
Somehow, however, I still end up singing at exes' weddings (yes, I'm a church choir geek), and getting job leads and projects from former colleagues. How do I do it? By writing a killer resignation letter (and, um, being awesome).
While a post on resignation letters might be better suited for those embroiled in full-time office work, being able to master one of these babies is key for those who are a) making the leap into full-time freelancing, but who still want to continue doing work for their former employer on a freelance basis (or who, heck, want to avoid burning bridges), b) resigning from a regular freelance gig, or c) trying to shake a problem client without sullying their professional reputation. So please, read on for my resignation letter formula:
Statement of Intention:
Dear Awesome Employer:
I'm e-mailing to announce my resignation from Awesome Job, effective November 1.
First off, get straight to the point, being sure to mention an end date. It's generally considered polite and decent to give at least two weeks' notice. Some even say that you should remain to tie up loose ends for an amount of time equal to the amount of vacation days you have.
Expression of Gratitude:
This wasn't an easy decision to make. I've loved Awesome Company for as long as its existed, and it's been a dream to Do Awesome Stuff for you these past two years. Awesome Person: You've been such an excellent manager and colleague, and I appreciate your hard work keeping the lines of communication open between staffers and freelancers. Other Awesome Person: You're Awesome Too.
As bitter and jaded as you may feel about things right now, chances are that there was once a time when you loved your job…loved the people you were working with…loved the work you were doing. It was a dream job, and you were sooo excited that you had landed it. Not only that, but you've gained a heckuva lot of good experience from it, not to mention good contacts and good additions to your portfolio. So show some gratitude. And, for the love of god, be genuine about it. They deserve it.
Reason for Leaving:
Still, I've felt that Awesome Employer has Made a Change That Makes This Job Less of a Perfect Fit for Me, and it's been frustrating for me to Deal With This. And I'm also not so sure I'm the hip, young, happenin' chick you need for the job (excitement for me equals a new episode of House on the TV).
You may want to succumb to your bitterness at this point. Don't. But that doesn't mean that you shouldn't in some way be truthful when explaining why you're heading for the high hills. Be diplomatic when listing your reasons for leaving, and perhaps even err on the side of it's-not-you-it's-me.
Reiterate Your Gratitude and Lay the Groundwork for Future Collaboration:
I'd like to thank you for all the opportunities you've given me. I heart — and will always heart — Awesome Employer.
Leave things on a positive note. And, if you're interested, express the possibility of working together in the future in a somewhat different capacity. Chances are, your employer will be so pleased with your grace in leaving that they'll be eager to retain your services in some way. Especially if you've proven your awesomeness time and time again during your time with them. And you have, of course. Right?
Related: Wanted: The Career Equivalent of an Open Marriage, How To Write Your Way Into the Best Darn Jobs Ever