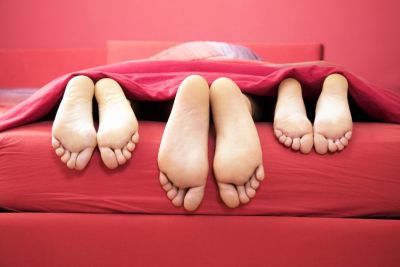 It always begins the same way:
I find my perfect match, give pursuit, and find that my positive attentions are — more often than not — eventually returned. I am giddy…fulfilled…content, and months pass with minimal complaint. I'm more than willing to overlook the small things. I even start to consider: Could this possibly be…The One?
But the honeymoon period inevitably ends. Small annoyances are now BIG DEALS. That, and I'm sort of bored. I crave variety…excitement…a good time with little commitment. I start to feel resentful.
I'm scared, though. My original match still makes me feel safe and secure and, well, I still need that. The reasons I had for loving my match haven't changed, after all. But my dissatisfaction eventually becomes too big to ignore, and…
…I resign. Maybe my next gig will keep me happy!
I was reading Jenny Block's Open last night — an account and exploration of an open marriage — when it occurred to me that I approach my job situations in much the same way I approach my relationships. I try to pursue an all-or-nothing traditional arrangement, and then become frustrated when all of my disparate needs are not met within that particular, extreme construct.
For example, before I became a full-time freelancer, I worked full time in academic book publishing. I felt perfectly fulfilled by this job for about a year, but eventually became frustrated by the fact that the job afforded me no creative outlets, and the commute left me far too exhausted to pursue additional writing projects on the side. I became bitter and resentful, and eventually left the corporate world entirely. I missed the social aspect. I missed the regular paycheck. But I felt it was my only option.
Cut to…now. I love so many things about being a full-time freelancer: the flexibility…the variety of work…the pajama pants…But I'm constantly terrified that I'll be unable to pay the next month's bills, and I've become depressed by the lack of human contact.
Could it be that the stability of an awesome part-time gig, plus the variety that additional projects bring me, would be the perfect setup? Could it be that one, extreme setup could not possibly meet all of my needs? And that's okay?
What's your ideal setup, and which needs does it meet for you? Do you have needs that are not being met? Have you brainstormed ways in which to get those needs met outside of a traditional work structure? I'd love to hear your thoughts!
Related: 10 Side Jobs for Freelancers, My 5 Favorite Things In: One Person/Multiple Careers, How To Juggle Multiple Careers