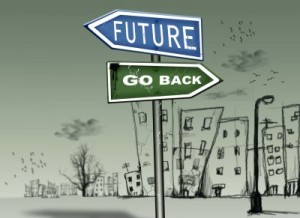 For quite some time now, I've been working toward opening my own private career coaching practice. The idea sprouted after about two years of full-time freelancing — due to all the e-mails I was receiving from young up-and-comers looking for advice — and, when the economy eventually went south, it just seemed like common sense to figure out new and interesting ways to diversify. The publishing landscape was changing, and it was time to look to the future, and to figure out how I might fit into an industry that was in flux.
Now, with exams and teleclasses behind me, and with seemingly more and more people floundering every day — wanting a change and not knowing what change to make, or how to go about making it — it seems about time to get this party started.
I'm excited (like, giddy-excited) to announce Career Coaching for Word Nerds, a coaching practice centered on the publishing industry. ::throws confetti::
What is career coaching, and what can it (and me) do for you? Well, the coaching process is basically a collaborative effort between coach and client to map out a path to career (and, by extension, life) fulfillment. It is my belief that, by using pointed questions, motivating you to vocalize your goals, and challenging your beliefs about both yourself and your abilities, I can help you map out a career path that will satisfy your life purpose, and be aligned with your values, motivations, and needs.
Also? I can help you out with queries, market research, and all that other good stuff.
To kick off Operation Steph Is A Coach, I wanted to run a contest. The prize? For two lucky people, one month (four half-hour sessions) of career coaching, gratis.
My only request is that you be willing to share your (brutally honest) feedback once the month has ended.
You can enter this contest by:
– leaving a comment below that explains what you hope to gain from the career coaching process.
– and then tweeting: I want @stephauteri to #careercoach the heck outta me: http://ow.ly/1aCjv
Winners will be chosen at random and announced on Friday, March 12
Of course, I invite you to visit my career coaching site and consider a more steady relationship. 🙂