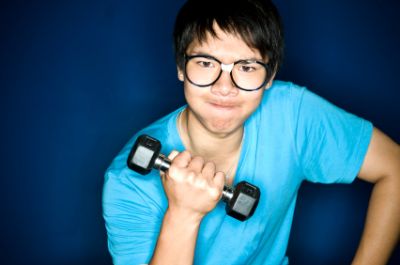 The summer after my freshman year of college, I approached the editor of a small, family-run, local magazine about the possibility of interning for him in some capacity. To test my abilities, he gave me an article assignment. But when I couldn't get confidential information out of a source, the piece was scrapped, and he told me I wasn't aggressive enough for the journalism industry.
I was crushed.
Fast forward about seven years. I was working full-time as a marketing associate at an academic book publisher, but still freelancing on the side. A family friend mentioned my name to this editor — the very same editor who had long ago made me doubt myself — and he contacted me about writing features for his magazine.
Obviously, he didn't remember who I was. Not only that, but he ended up liking my work so much that he tried to lure me away from my job so that I could become a staff writer for his magazine. I was having none of it.
I eventually stopped writing for him because the pay was meh, and he kept introducing errors into my final copy. I also found him patronizing.
It was a valuable experience, though. It showed me clearly that while I may not be aggressive enough for hard news, my ability to develop a rapport with my sources when in a one-on-one, casual interview made me a valuable asset.
Plus, it was extra-satisfying to turn down a man who had once upon a time told me I wasn't good enough.
Neener-neener.
I still have self-doubts.
All the time.
I receive cruel comments and wonder if I'm too sensitive to be a writer. I agonize over the editing process and writers' rates and worry that I'm too much of a writer to be an editor.
When I was taking my career coaching teleclasses, and stumbling my way through role playing scenarios, I constantly argued with myself in my head: What were you thinking!? I asked myself. You're an introvert who takes medication for her social anxiety! Your shrink suggested booze and pot as a means of preventing panic attacks! What makes you think you can excel on a career path that requires you to interact with others!?
My classmates saw things differently.
They told me that they saw in me empathy, and the ability to put clients at ease. They told me that they saw warmth and friendliness and humor. They were impressed with my ability to so quickly connect with others on a more personal level.
They saw in me the same attributes others saw in my writing. But I had been hiding behind my writing for so long that it didn't occur to me that the ways in which I excelled there could carry over into other aspects of my life.
When you think about it, empathy… warmth… self-deprecation… the ability to connect with people one-on-one… these things are just the flip side of my social anxiety. They're abilities I was forced to develop as a means of dealing with my unbridled panic when among larger groups of people. They're strengths that come directly from my weaknesses. Could it be that your weaknesses are really strengths as well?
Maybe your struggles with hard news are an indication that you'd excel more at personal essays and profiles.
Maybe your struggles with sales are an indication that you'd have better luck with guerrilla marketing.
Maybe your struggles with public speaking mean you'd do better offering e-books, teleclasses, or e-courses.
But maybe you're having trouble seeking the flip side of your supposed weaknesses.
Homework Assignment: With your personal struggles in mind, ask a close friend or colleague where they think your strengths lie. It may be that they see something in you that you can't.
Bonus Homework Assignment: Tell someone else what it is you see in them. Give them the gift of previously unrealized possibility.
And of course, do report back in the comments below. Tell us about any revelations that have come about, and what they might mean for your freelance business. New marketing tactics? New products or services? A new niche? Come on! We're dying to know!
Related Posts: Reason To Write: To Find My Voice, How To Build Your Network Without Having A Panic Attack, 10 Interview Tips From A Reporter Scared Of Reporting