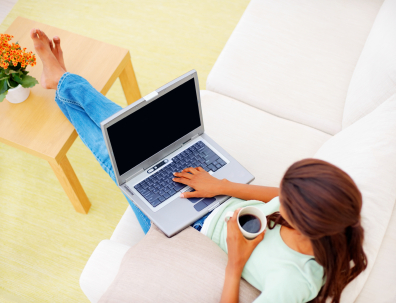 According to an infographic recently put together by the American Museum of Corporate American History and Solvate, the average commuter spends 429 days just commuting over the course of their lifetime.
Which makes me feel relieved that I put a stop to that bullshit early on.
I mean man. What a waste.
Not to say that working in an office isn't better for some. Office culture provides structure. A social outlet. A separation between work and home.
But still.
You can have that at home, too. In fact, you can have it even better.
How?
1. Create a space that's all your own, and that's all about work.
Depending upon your living arrangement, your home office may not be an actual home office. In fact, it may be a corner of the kitchen. It may be a closet. It may not even have a door. But it should be all about you and your work.
For the past year, I've worked in bed with my laptop. [Insert long, frustrating story involving us putting our clutter in storage, and putting our condo on the market.] Not only was this terrible for my back and my legs, but it was also terrible for my productivity, and terrible for my motivation levels. So we grabbed a smaller, hand-me-down, antique desk from my mom and moved it into our "office" space this past weekend.
I share the space with my husband. There are two litter boxes to the left of me. There's no separation between this space and the living room. But I have a small amount of storage now. I have my ergonomic chair. I'm not working where I sleep.
And this has made all the difference in the world.
2. Set work hours.
Or, if you're loath to fall in line with the corporate 9-to-5, at least schedule out blocks of time for each item on your daily to-do list.
Is your to-do list out of control? You can more effectively prioritize your time — and the items on your list — by setting quantifiable goals. First, ask yourself: Where do I want to be a year from now? Use the answers you come up with to draw up a list of goals for the coming year. Then ask yourself: Which items on my already-existing to-do list get me closer to these goals? Move these to the top of your list. Move the other items lower, or consider eliminating them entirely.
Next, break down your goals into more easily accomplished (and far less overwhelming) action steps. Schedule them out over the course of the year.
Finally, every morning, draw up a list of your goals for that day.
Start fresh every morning, so as to avoid feelings of guilt and frustration.
And if you feel that you need some extra accountability (now that you don't have a manager peeking over your shoulder), e-mail this list to a motivational partner every morning. (Leslie A. Joy, a tweep of mine, has coined the oh-so-perfect term "accountabilibuddy.")
3. Schedule in some time that has nothing to do with work.
When you work from home, it can be easy to forget things like lunch. Showers. Pants.
(The bralessness is a personal choice.)
So when you're scheduling out those blocks of time for the day ahead, include blocks for that hoop dancing class you've had your eye on. A quick snuggle with your cats. Dance breaks with your cats. A daily walk. Topless yoga in the living room. Making time for these things will allow you to decompress and recharge, and will keep you from burning out. Because even when you love the work you're doing, there can be too much of a good thing.
And don't forget to make time for your friends and family! I know you love your work, but your peeps can at least love you back.
4. Get the hell out of dodge.
Whether you're looking to take your work with you, or you want to make some purely social plans, you need to get out. At least sometimes. Or you'll go stir crazy. Or lose the capacity to interact with other human beings.
I make it a point to schedule at least one social activity a week. And I sometimes take my laptop to a coffee shop nearby. There's an outlet in the corner. There's free Wi-Fi. The coffee mugs are ridiculously large. I can be around other people. What's not to love?
You could also seek out a co-working arrangement. According to the infographic mentioned at the beginning of this post, co-working spaces have grown from zero to 250 in the past five years.
5. Remember to punch out.
Too many freelancers and entrepreneurs work evenings.
They work through their nights. They work through their weekends.
Many will gladly admit to this, as if it was a badge of honor when, in fact, it's just a bad habit.
When you don't place boundaries on your time, both your health and your relationships can suffer, big time.
Not only that, but you could end up enabling some pretty pesky clients as well.
When you don't respect your time, no one else will, either.
So don't let your at-home career consume you. Eighty-nine percent of freelancers describe themselves as happier since they began freelancing full-time. Don't become part of the other 11 percent.
Work from home? How do you retain the last threads of your sanity?