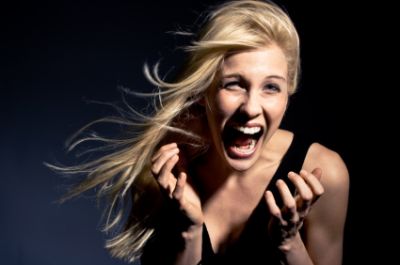 The other week, I wrote a post about how choosing the more difficult path can lead to both personal and career growth. After all, if you're not challenged by the work you're doing — if you're not learning — how can you possibly move forward?
Oftentimes, that difficult path involves merely putting on pants, or ignoring the evil siren song of your DVR queue. But sometimes, the more difficult path involves doing something you're bat-shit petrified of.
Eleanor Roosevelt once said that you should "do one thing every day that scares you." As a self-hating wuss, this appeals to me.
And as I read Noelle Hancock's memoir, My Year with Eleanor (in which she tries to do one scary thing a day, for a year), I can't help but think that in order to go bigger and better in 2012, I need to be challenging my wuss-tastic self even more.
I mean… my most satisfying accomplishments of the past year were also completely terrifying. Doing a reading during Lit Crawl NYC. Joining a yoga studio. Going on a yoga retreat all by my lonesome. Co-hosting a large-scale speed networking event. How can I push myself even further in 2012? How can you?
I've already agreed to be a panelist at the ASJA conference this coming spring (Writing About Sex, Saturday, April 28, 10:45 a.m. – 11:45 a.m., Roosevelt Hotel, NYC). Instead of reading a previously-published essay word-for-word off of a piece of paper (which was terrifying in itself, even though I was drunk), I have to prepare a 10-minute presentation, which I will then deliver to a room full of established writers. While sober.
All of my fellow panelists are published authors. I am only a co-author. Of an ebook. And I hate public speaking. I'm going to die. (Of shame, and of blunt force trauma to the head when I pass out and fall.)
But if I don't die, I may gain some welcome visibility from both editors and potential coaching clients. And the appearance will also strengthen the sex writing platform I'm building up as I query lit agents with my book proposal.
What other scary things could I try in 2012?
raising my rates
becoming a yoga teacher trainee
getting my shit together and throwing some new Word Nerd Networking events
querying outside of my niche
auditioning for a secular choir or a cappella singing group
attending more industry events (sans Xanax)
What's one scary thing you'd like to try in the coming year in order to build your freelance business?
Related: How Choosing the More Difficult Path Leads to Awesomeness (and a Cuter Butt), How to Build Your Network Without Having a Panic Attack, The 5 Most Common Problems Freelance Writers Face, Why It Took Me Four Years to Become a Freelance Hard-Ass