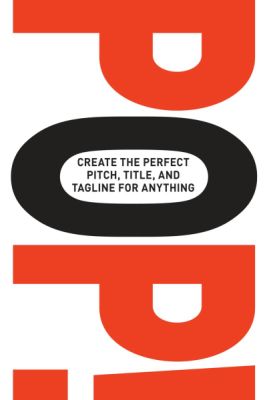 Despite being a writer — and a writer who once worked her way up the corporate ladder in the marketing department of an academic book publisher, no less — writing effective marketing copy for my own small business is still a struggle for me.
Because of this, I've spent a lot of time poring through business books and marketing how-tos, and even took one of Dave Navarro's workshops in order to revamp the sales page for my career coaching business.
My latest read? Sam Horn's POP! Create the Perfect Pitch, Title, and Tagline for Anything. A marketing book written to help readers connect with customers, it's not just about marketing — it's about branding as a whole.
I was skeptical about this book when, within the first 40 pages, Horn held up both the Daddle and the Smitten as examples of fantastic branding. After all, both products are pretty ridiculous, and people regularly make fun of them. (Check out the Amazon reviews for the Daddle. Absolute comedy gold.) Could I really take advice from someone whose paragons of branding were so corny?
But as I read on, I realized that Horn was actually pretty brilliant.
Are you struggling with your own marketing copy? Each chapter in POP! focuses on a different content marketing technique. And while you probably won't use every single marketing tactic in your own marketing content, trying out even one or two could set your product or service apart from the competition.
For example, if I wanted to more effectively promote my ghostwriting services to sexual health professionals, I could use the Valley Girl Technique to find something in pop culture that my service is "like" (get it?), and play around until I came up with something like: Steph Auteri: The Sex Whisperer, or Steph Auteri, the Shrink Whisperer*. (Shut up. It's a work in progress.)
Or if I wanted to publicize a Word Nerd Networking event, I could simultaneously use the Alphabetizing Technique and the Juxtaposing Points Technique and write something like:
"Introverts — Come out for an evening of speed networking! Because we've eliminated the pressure of approaching new people, you can spend your time effectively networking instead of fretworking (and — later — regretworking)."
Okay, yes. It's lame as hell. It's not quite there yet. But you get what I'm saying…
Luckily, as I made my way through Horn's book, I realized I had been using some of her techniques without even realizing it. Take the name Word Nerd Networking, for example. It contains both a rhyme and alliteration… a POP! double whammy.
Also, Sex Play for Prudes, the working title for my book. It contains alliteration (I heart alliteration), and also juxtaposes two concepts you'd assume wouldn't typically go together: sex play and prudes.
Horn also suggests using first-person stories to maintain people's interest. This is something that comes naturally to me, as I'm your typical, narcissistic personal essay writer. 😉
These are only a smattering of the techniques Horn showcases in her book. I suggest you pick up a copy if you want to know the rest. Because while some techniques may lead to something so corny you can't stand yourself (Fretworking? I know. I hate me, too.), others may carry you to branding victory.
*I'm totally using this one.
Related: How to Increase Your Chances of Landing That Book Deal, Even Coaches Need Coaches: 4 Experts I Love to Bits