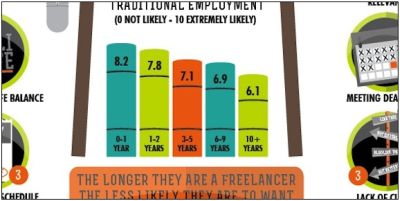 In viewing an infographic developed by JESS3 that aims to give readers a peek inside the mind of freelancers, I was completely unsurprised to learn that "lack of clear direction / path" is one of the top three things that keeps freelancers up at night.
I can certainly relate. I've recently been engulfed in my own period of ennui. Though I've been working on many different things, I've been feeling a bit ambivalent about it all. As I asked my husband just the other day, "What the hell am I even working toward!?"
(I also suggested that I might do better as a housewife, but Michael just rolled his eyes and told me I'd snap out of it soon.)
Part of this is probably due to stress over unsuccessful IUI treatments, the continuing short sale process, and the up-in-the-air status of my book.
But could it also be that –Â gasp! — I'm just doing too much?
Here's a quick list of what I've been working on lately:
writing/revising my book
sending out Word Nerd News every month
blogging on this here bloggity-blog
taking on one or two new coaching clients every month
planning a yoga/writing workshop with a fellow writer/yogi
interviewing to be a volunteer mentor with Girls Write Now
attending Toastmasters meetings as a means of improving my public speaking skills
developing an online community for word nerds
ghostwriting a book with a couples counselor
sending out magazine queries
writing articles for several print and online magazines
drawing up proposals to manage online publicity for several different clients
copyediting other people's books
Also in the cards for my near future:
finally writing my full 5 Weeks to Freelance Awesome ebook
entering a yoga teacher training program
All of it is connected in some way. But I can't help feeling scattered. Burnt out by the hustle. Confused about what I'm working toward.
Anne-Marie Slaughter recently wrote in The Atlantic that women still can't have it all. Forget having it all (career, babies, work/life balance, etc.). I've been trying too hard to achieve it all in my career alone. Too many ideas that I'm totally excited about. Too little bandwidth!
Laura Vanderkam recently did up a brief but brilliant post that asks the question: "What are you willing not to achieve?" She writes that "part of being focused on certain goals means you may need to release other very good ideas that could consume your time as well."
Sigh. Indeed.
I recently wrote in the latest issue of Word Nerd News that we should all take a look at our income, pinpoint the biggest moneymakers, and focus on those for the rest of the year as a means of boosting our bottom lines. And that's certainly one way to achieve more focus. But you could also:
envision your ideal day and cut out the things that don't contribute to those goals
outsource the tedious but necessary parts of your business
take a good, hard look at the items on your plate, and be honest with yourself about the work that no longer excites you
if your platform  has felt fractured as of late, aim to cut out what doesn't belong (one of these things is not like the  other…)
to that end, draw up an elevator pitch you feel accurately represents your personal brand; what do you have a hard time fitting in?
give up and become a full-time housewife (j/k! maybe!)
So let's hear it. What are you willing not to achieve?
Related: Freelancedom Book Discussion: The Wealthy Freelancer, Career Stalled? What You're Doing Wrong