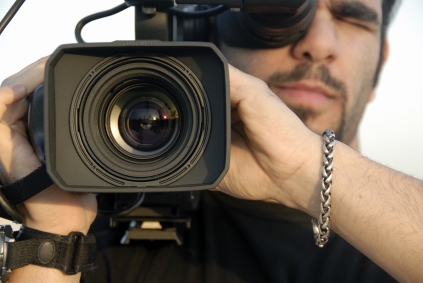 Yesterday, CNN sent a camera crew to my house so that they could interview me for a segment on compulsive shopping. They had seen an old article of mine on Tango, and thought I would be the perfect interview subject. I experienced sweaty palms and extreme dry mouth as I attempted to sound coherent in front of the lights, camera, and crew. I worried that I was shouting in my attempt to be vivacious, but I couldn't stop myself. I was oddly perky as I gave the guys a tour of my condo, pointing out frivolous purchases in a voice that didn't exactly express my regret. I was an anxious mess.
Later on, a friend commented that I was incredibly brave to be revealing so much of myself. I responded that I was used to mass humiliation and frank honesty because of my sex writing. But then I had time to think: When this segment aired, a huge portion of the population — much huger than the one  reach with my blog — would see me. And what would they see? A woman who didn't feel guilty for dragging her husband down into debt with her (and believe me, I do feel guilty). A woman who was disgustingly materialistic. A woman who could make them feel better about themselves.
Suddenly, I'm an anxious mess again.
As a writer, I'm always vulnerable to the judgments of others. But I value honesty with my readers, even as I shrink from their criticism. I like to feel as if I'm having a conversation with readers. How can I truly do that without being open?
But do I want to be the poster child for compulsive shopping, a year or so after I already learned the error of my ways? Does something like this adversely affect the brand I'm trying to build…the image of myself I'm so desperately trying to project? Or should I remain open in every aspect of my life?
Does someone need to put me on mute for my own good? 😉
…
p.s. I'll be sure to let y'all know when the segment is slated to air, in order to ensure maximum humiliation levels.
Related: The Vulnerability of Writers