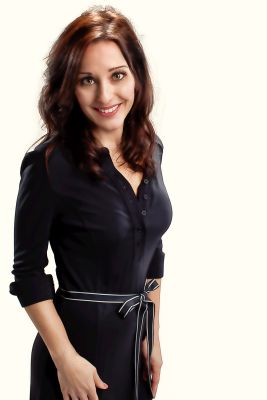 Though this blog is all about freelancing, it's become clear to me over the past eight years that freelancing doesn't have to be an all-or-nothing proposition.
In fact, my own career has taken on a variety of slash career permutations. I've done freelance writing and editing while working full-time in the book publishing industry. I've juggled part-time permalance gigs with freelance projects and internships. And now I'm a full-time freelance sex writing, funeral singing career coach to word nerds.
I love having that variety, but doing so many things has made it difficult to build one, cohesive platform.
Which is why I approached Jenny Foss — founder of her own recruiting agency, resume guru, job search consultant, and author of To Whom It May Concern: Or, How To Stop Sucking at Your Job Search — and asked her to give my resume a major overhaul.
After she created a resume for me that made me want to make out with myself, it occurred to me that she might have more insight to share in terms of creating a cohesive marketing platform as a freelancer.
So I put on mascara and interviewed Jenny (also known as @JobJenny) via Skype video chat.
You're welcome.
What do you see as the biggest obstacle freelancers face when building a one-stop marketing platform?
What I see is that it's hard to put together something that creates a story that's not disjointed.You need to ensure that your resume or portfolio looks like a story, makes sense to the reader, and is maybe not a career progression, but at least a method to the madness of the pieces that make up a career. It should appear that there's a strategy behind the projects you take on, and what you offer.
For those freelancers and entrepreneurs coming from a corporate background, how do you suggest they put together a resume that showcases their freelance/client work, yet also represents their corporate past, in a way that shows that the two are aligned or directly related?
One thing I often recommend is that you put all of your freelance work under one business name, whether it's an official corporation or an LLC or just something you decided to call yourself. Then you have the opportunity for a more smoothly flowing resume that showcases your freelance work, and that still shows the actual corporate work you've done and may continue to do. Because otherwise, what happens to people is that they appear to be all over the map, and most clients or employers get nervous, because they can't see an intentional path.
What are some other tips you'd throw out there for those putting together a project-based resume?
Of course, make it organized. Showcase the "so what" about each project: What were your major accomplishments? What did you do that others in the same position did not? What will co-workers/colleagues remember you for? Make it action/verb-oriented: I did that and here's what resulted.
Examples from Steph Auteri's new Ridiculously Awesome Resume:

Have earned strong reviews from editors and readers for natural ability to convey personal experiences in a way that engages and entertains a wide online community.
Concepted, planned and executed a Word Nerd Networking event that attracted 75 writers, bloggers and publishers. The event earned outstanding participant reviews, and spawned plans for an upcoming digital publishing forum.
Proven ability to write pieces that attract significant audience response and national media attention, including coverage on the Today show, CNN and PC Magazine.
On your site, you've advised that — visually — people keep it simple  when it comes to their resumes. How can those in the creative industries get creative with their resumes… without shooting themselves in the foot?
You might want to have a couple of resumes. If you're planning to post something on an online portfolio or distribute it printed, it's fine to have something eye-catching… design-oriented… a little ornate. It's not fine when it might go through a tracking system. Use simple text… a common font… no graphics. Tracking systems don't like those fancy elements. They don't translate well. As a result, your resume could get lost in the tracking system as a garbly mess.
In addition to a fantabulous resume, what do recruiters, hiring managers, and clients look for in a strong marketing platform?
If you're not online and not utilizing some of these tools that are so vital to the creative industry, that sets you back a little bit. Like, "Hi! I'm a web designer and I don't have my own web portfolio!"
I also look for personality. There's a difference between flair and weird. You can showcase a little of your personality in your documentation. Don't use cliche words. I don't care that you're a heavy-hitting team player who thinks outside the box. Tell me what you're really all about. If I can tell you're using phraseology from a textbook, it doesn't do it for me.
What is the most surprising… perhaps counterintuitive… thing you've learned about the job search process during your time in recruiting?
The most terrible thing that almost everybody does is spend the majority of their time applying blindly to things they find advertised online. It's a tremendous timesuck and will get you only nominal results. Why? If a job is advertised, there are more people chasing it. What I highly recommend, much to the chagrin of HR people, is to go after those positions, but take the extra step to figure out who the hiring manager is for that job. So much time and frustration can be cut out of the equation if you take that extra step.
Also, you can connect with high-level people if you engage with them instead of just blatantly asking for a job.
Tell me more about why you launched JobJenny.com, and why you wrote an ebook.
I had been a recruiter for a handful of years. When the economy turned, I was getting calls and emails from people every day who were very frustrated and wanted my help with their resumes, and with the job search. I work on commission. I really wanted to help a lot of people, but I had to draw the line somewhere, as I was not being compensated for my advice. I decided to provide a resource that would give the type of information I was repeating over and over again. At first, this was just jobjenny.com, but my ebook — To Whom It May Concern: Or, How To Stop Sucking at Your Job Search — has also just launched. [This is an affiliate link. Because I'd trust Jenny with my entire career, I feel totally comfortable endorsing her book. So yeah. Buy it. She's a genius.]
What has been your proudest accomplishment as a business owner?
When I get the message from clients who say, "I just got that job. I just got the call." A woman I did a cover letter and resume for about five weeks ago was going after a really cool job with a really cool company. She just told, "I got that job." She knocked their socks off in the job interview, of course. It wasn't all me. But it's really gratifying to me when I learn that people are benefiting from this guidance that I've offered. I can't put a price tag on that.
Related: My 5 Favorite Things In: One Person/Multiple Careers, Passive/Aggressive: Finding Work as a Freelancer, Product Placement: The Resume T-Shirt, How To Market Yourself: Strengthening Your Web Presence, What Can You Do for Me?