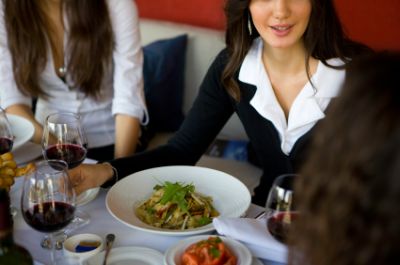 About five years ago, after going back and forth over some story ideas, an editor from a national women's magazine invited me out to lunch. I did a little happy dance, and then promptly freaked the eff out. Though mostly over what shoes I would wear.
Fast forward to our lunch date. After a bit of small talk, the editor asked me to pitch her some story ideas. I had come prepared with several. Don't get me wrong. I wasn't completely unprepared. Unfortunately, all of the ideas I'd written down were better fits for every section but hers.
Oops.
Tomorrow, I'm meeting up with another editor from another national magazine. And yes, I'm still worried about what shoes I'll wear. But I'm also making a bigger effort to be prepared. How?
I'm dressing business casual. Even though I'm a full-time freelancer who conducts most of my business in bunny slippers (right now, I'm wearing a tunic, jeggings, and flip-flops, which is also not business-appropriate), I will refrain from wearing my favorite purple flip-flops, or showcasing my boobage, during my business lunch, even though it is quite suddenly a trillion degrees out (not that I'm complaining). When it comes to doing business, you should dress for the company you're keeping.
I'm doing my research… on the editor. That's right. I'm cyber-stalking my lunch partner, with an eye toward his career history, and toward his writing portfolio. That way, I can get a feel for his interests.
I'm doing my research… on the publication. I'd do this before pitching any publication but, since we're meeting for lunch, I'm doing extra due diligence, and giving myself a review of the way his magazine his laid out, what types of stories they typically run, whether or not they have a thing for sidebars and other extras, whether or not their stories are heavily reported, etc.
I'm doing my research… on his mothereffin' section. Because god forbid I humiliate myself by showing up as woefully unprepared as I did in the story above. So before heading out tomorrow, I'm re-familiarizing myself with the layout of his section, the regular columns, the story lengths, etc.
I'm coming prepared… with pitches. For his section. Dammit. Because then I won't panic and pass out and hit my head on the edge of the table when he asks me if I have any new ideas.
I'm coming prepared… with questions. About the magazine, about his career, and about him. Because, as I've mentioned before, networking isn't just about what the other person can do for you. It's about showing a genuine interest in the other person, and developing possibly long-lasting connections.
I'm drinking a lot. Actually, I'm doing the opposite of that. Despite how terrified I'm pretty sure I'll be. In fact, instead of drinking heavily, I'm going to remind myself that I have the right to be confident in my writing abilities, and I'm going to work on developing a coherent answer to the questions: What do you write about? and What do you hope to write about in the future?
Related: How To Build Your Network Without Having a Panic Attack, 10 Ways To Prove Your Experience… Without Any, 6 Ways To Find Your Next Mentor, How To Avoid Flubbing Your Phone Interview, Informational Interviews: Just Like the Real Thing