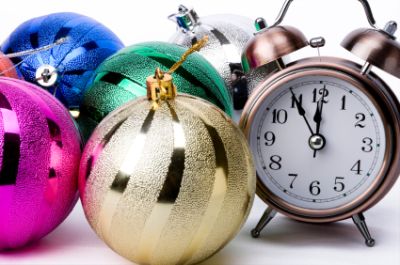 I've been seeing it a lot lately. Fellow freelancers tweeting out that their calendars have opened up enough to allow for new business. I did it myself just last week.
Is it something in the air? Have our work cycles somehow become synced up? Are all of our regular clients just too damn busy stringing up twinkle lights and hanging stockings to bother with assigning out new work?
Part of it is the conclusion of another fiscal year. Large projects are ending. Annual budgets are drying up. Clients are holding back until 2012… fiddling with their editorial calendars… treading water until they feel safe spending money again.
Another part of it is Holiday Brain. Between all of those projects we just wrapped up, all of those pound cakes and soups we just made for Thanksgiving, and all of that holiday shopping we now have to do, we completely forgot about marketing ourselves. I mean, who has time to hustle when there are catnip candy canes and glittery tree ornaments to be bought!?
Unfortunately, considering how much money we tend to spend during the holiday season (buying a third ceramic Christmas tree was totally worth it), we need new income now more than ever.
So how can you make the holidays work for you?
Give one last end-of-the-year, holiday-themed marketing push:
throw an industry holiday party, at which all attendees leave with a stocking full of business cards, coupons, and candy cane kisses.
hold a workshop for writers, teach an e-course, or throw together a teleclass on targeting your pitches toward the (other) holidays.
speaking of targeted pitches, start brainstorming… for the fourth of July.
throw a holiday sale on your most popular products and/or services.
hold a holiday contest… look to relevant companies and collaborators in order to put together a kick-ass list of prizes.
gift your favorite clients with a holiday discount… or even with a small gift just to show you appreciate them. (Susan Johnston recently shared her own gift ideas here.)
make like Santa and gift every blog in your particular universe with a guest post. Well. Assuming they want one.
instead of a cookie swap or Secret Santa extravaganza, organize a product/service swap among those within your professional network. Watch new professional relationships bloom.
volunteer your time (and promote yourself as an expert) by answering questions on sites like Brazen Careerist or LinkedIn, or responding to reporters' queries on HARO.
crash all the other holiday industry parties in your general area.
go caroling with local freelancers, and end with hot cocoa and career-related brainstorming for the new year back at your place.
[INSERT ANY OTHER FUN, SILLY, RIDICULOUS, HOLIDAY-RELATED THING YOU CAN THINK OF. GET CREATIVE, YO!]
Whew! Now I really want to go caroling.
ANYway.
I plan on doing a whole slew of these. But for the moment, I'd like to let you know about my own holiday sale, over at Career Coaching for Word Nerds. Most of you already know that I already offer three career coaching packages at various price points, for those who want to commit to either four sessions, 12 sessions, or 24 sessions of coaching.
From now until December 31, I will be offering One Hour to a Word Nerd Action Plan, a single, one-hour session in which we lay out your plans for the coming year, after which you'll receive a packet containing all of the action steps we discussed, plus a list of relevant resources.
Note: This does not mean you must schedule your session in the midst of this crazy-as-hell holiday season. It just means you have to purchase this package by the 31st, after which it will wink out of existence, much like the twinkle lights all over your neighborhood. (Um. Unless you have the sort of neighbors who leave that shit up through April.)
Interesting in purchasing the gift that will keep on giving? Head on over to my coaching page and scroll to the bottom for this holiday package.
Then get your ass in gear and start marketing, word nerds!
How have you gotten creative with marketing during holidays past?