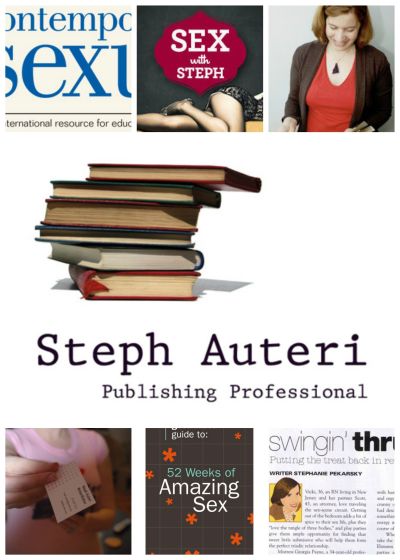 Thirteen years ago, I set out for an interview at the Boston Phoenix. I was up for an editorial internship in their new media department and, upon my arrival, I was ushered into the private office of the man who would eventually become my supervisor. He sat before me, rifling through my clips and pointing out weaknesses he perceived, leaving me wondering if I stood a chance. I uncrossed and re-crossed my legs. I twirled my hair nervously.
And then: "Do you feel comfortable working with adult content?"
I wasn't expecting that and, honestly, wasn't even sure what constituted "adult content." So of course, I answered in the affirmative.
"Great!" he said, slapping his desk with a decisiveness that startled me. "Come around here and have a look at what you'll be working on!" I rose slowly from my chair, inched my way around his desk, and came to stand behind him. I leaned slightly over his shoulder, squinting at his computer screen.
The site I saw wasn't the Phoenix. In the left-hand sidebar was a bare cartoon ass. He hovered his mouse over it, and slapping sounds rang out from the computer's speakers. He chuckled. "Gets me every time!"
He then proceeded to tell me about the two personals sites owned by the Phoenix Media/Communications Group — one of them pretty standard; the other more risqué — and explained what his interns would be expected to do. I was hired on the spot.
This is how I became the Vibrator Queen.
Today, I'm the Senior Writer / Editor for a sexual health organization, and the social media manager for another social services organizations.
How the hell did I get from there to here? It was all very uncalculated.
2002 – 2003: As an online editorial intern at the Phoenix, I created content for two personals sites: People2People and EroticBlvd. Funnily enough, I excelled at the sex stuff, possibly because I didn't take any of it seriously, and that shone through in my writing. I reviewed vibrators, erotic films, sex how-tos, and more. I tried out cardio striptease classes, sizzling body candy, and a wide-tipped riding crop. And I had a blast. My supervisor eventually lured me away to a startup, where I churned out SEO content on vibrators and bukkake. I was never paid.
2003: My first job out of college was as the editor for an environmental engineering firm down on Wall Street. I was bored out of my mind. I started submitting my college-era poetry to various websites, and got a poem about masturbation published online. I got a thrill at seeing my first, post-college byline and I started to seriously think about being a freelance writer.
2004 – 2005: I took a post-college editorial internship at the Feminist Press, where I devoured books on the conflicts between feminism and the sex-positive movement. I loved it there, and was ecstatic when they eventually hired me on as a part-time editorial assistant. Still, the money wasn't enough, and I needed health insurance, too. Another former intern got me an in as an EA at an academic book publisher.
2005 – 2007: While working my way up the ladder at Routledge, I simultaneously began pursuing a side freelance writing career in earnest. I did mostly book reviews at first but, after taking a few continuing education courses through mediabistro and at New School, I decided to go back to my sex writing roots. This landed me my first major print mag clip, in Playgirl. Inspired by my success, I pursued more of this type of work in my off hours. I became the freelance Books Editor for a sex news website, working under my former supervisor from the Phoenix. I briefly volunteered as a publicist for an indie magazine written by and for sex workers. I began making connections in the world of NYC-based sex positivity and feminism.
2007 – 2009: I longed for more time to pursue my more creative pursuits (and editing catalog copy just didn't cut it). I left Routledge to go full-time freelance, and also took on another post-college internship, this time as an EA at Nerve, whose tagline was "literate smut." I did the typical intern tasks but also wrote a number of pieces for them and, eventually, post-internship, was hired as a regular blogger and, later on, as a blog manager. Having Nerve on my resume gave me some added cache as I began breaking into publications like Time Out New York, New York Press, and YourTango.
2009 – 2011: In fact, when I decided to move on from Nerve, YourTango (an online magazine featuring content on love and relationships) snatched me up as a permalance editor. While there, I managed a parenting blog, wrote regular content, edited, managed the daily newsletter, and more. I also coordinated several of the content partnerships, and the editor at one of them — presumably an admirer of my work — offered me a regular sex column over at The Frisky.
2011 and beyond: I eventually left YourTango because I preferred being my own boss and wanted to chase some higher-paying gigs. I did a lot of freelance writing and editing, was offered another sex column, and even began coaching beginning freelance writers. I landed a literary agent (for a project that is still in progress). But my biggest break came when a former interviewee (a sex counselor I'd interviewed a year or two before who apparently liked the way the article turned out) contacted me about co-authoring an ebook. Since then — thanks to him — I've dabbled in ghostwriting and social media management, and have made many more connections within the realm of sexual health professionals.
And that's how I ended up going from being the Vibrator Queen to doing work that, for me, is far more challenging, meaningful, and fulfilling.
A lot of it seems entirely serendipitous to me. I never planned for this particular career path, and I feel like a character in a rom-com who keeps accidentally stumbling into new opportunities.
But another part of me has to acknowledge that I worked my ass off. I pitched and submitted the shit out of my writing, even when I felt I might not be qualified enough or have enough clips. I dove into new challenges, even when I felt I might be in over my head. And, most importantly, I tried to enter into a meaningful relationship with everyone I came across during the course of my career. This is why things seem so serendipitous. Because, after years of building and maintaining relationships, these fabulous opportunities keep coming to me.
And that's what I'll be talking about in a live teleclass on Wednesday, March 26, from 7 p.m. – 8 p.m. EST.
How to build a writing business by really carving out a niche.
Because even when you get burnt out on what you're doing, you can still hold onto that very same niche and take it in a new direction.
My class is part of a week-long series on launching a freelance writing career. Other classes throughout the week will tackle the days when you're just starting out, mastering online marketing, personal branding, and more.
If this is relevant to your interests — or even if you just want to hear me talk about sexy sex — REGISTER NOW.